Hello!
Can you believe fall is here already? I love summer, but there's something about the light and air of fall, the patter of rain on the roof, the crackle of leaves under my feet, and curling up with a good book and a hot drink.
What's your favorite thing about fall?
Below you'll read about the author signed books I have to give away, my top book recommendations for fall, and an interview with one of my favorite authors.
PLUS I've announced my book club newsletter winner below. Keep reading to find out more!
---
Behind Every Lie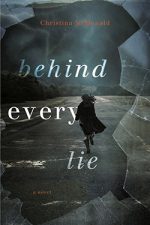 BEHIND EVERY LIE is now available for preorder!
Eva Hansen wakes in the hospital after being struck by lightning and discovers her mother, Kat, has been murdered. Eva was found unconscious down the street. She can't remember what happened, but the police are highly suspicious of her.
Determined to clear her name, Eva heads from Seattle to London – Kat's former home – for answers. But as she unravels her mother's carefully held secrets, Eva soon realizes that someone doesn't want her to know the truth. And with violent memories beginning to emerge, Eva doesn't know who to trust. Least of all herself.
---
Upcoming Giveaways
Check out my upcoming signed book giveaways this fall! As a book club member, you're automatically entered to win, plus you get exclusive access to my author interviews.
I announce winners on Facebook at the end of every month. Make sure to Follow me on Facebook and listen for your name!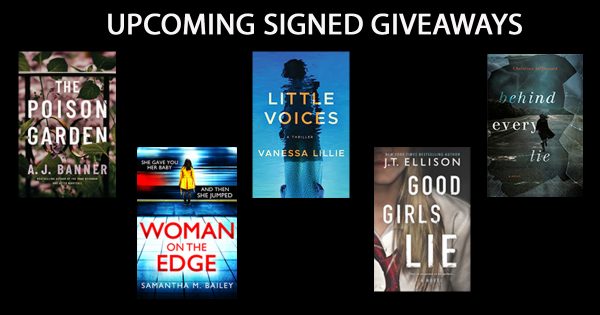 ---
My Top Book Picks for Fall
I've read a number of stand-out books the last few months. Here are my top three fall reading recommendations.
---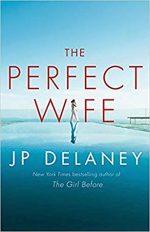 The Perfect Wife, JP Delaney
This book was totally different than I expected…in a good way! Original, clever and intriguing, I couldn't put the book down.
When Abbie goes missing, still not found after five years, her tech-genius husband, Tim, recreates her as a co-bot (companion robot). But the more Abbie finds out about the original Abbie's life, the more she begins to question everything she's being told. And so she decides to find out what happened to the real Abbie.
---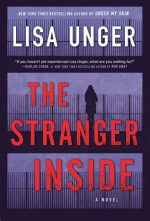 The Stranger Inside, Lisa Unger
An utterly unforgettable tale of justice, revenge and good vs. evil.
The story centers around Rain's tragic past: she narrowly avoided being kidnapped when she was 12. Her two friends weren't so lucky, though. Tess was killed and Hank came back a different person altogether.
Now Rain is living a peaceful, domestic life as a stay at home mom. But when another brutal murderer who escaped justice is found dead, Rain is unexpectedly drawn into the case.
---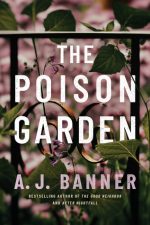 The Poison Garden, AJ Banner
Dazzling and at times frighteningly real, this eloquently written domestic suspense is a deceptive hall of mirrors experience.
On the eve of her first wedding anniversary, Elise makes a shocking discovery that turns her life upside down. And then she finds something from her deceased mother that makes her question everything. But is she being paranoid, or should she really trust no one?
---
Author Interview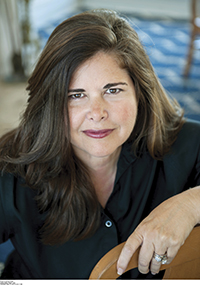 This fall I was so honored to interview the very talented domestic suspense novelist, Lisa Unger.
Find out who would be her ideal dinner guests, what it's like being a spelunker of the mind, and what she worked as before becoming a novelist.
---
Book Club Giveaway Winner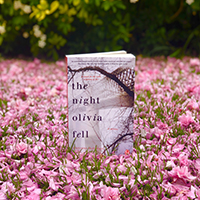 Every newsletter I randomly choose one book club member to receive a signed copy of The Night Olivia Fell, plus a sticker and bookmark.
The winner this month is: Marcia Cramer
Congrats Marcia! Just PM me on my Facebook page with your address.
Make sure to keep an eye out for your name in my next newsletter! Good luck!
---
Thank you!
I also want to take the chance to thank everybody who's bought, read or talked about my first book, The Night Olivia Fell. It became a USA Today bestseller this month, and I know that is thanks to all of you!
If you could wish yourself anywhere for a hour or two of quiet time, where would you go and what would you read? Hit reply and let me know!
That's all from me for now. Happy reading!

Follow me on BookBub to get notified about book sales and new releases.
---
Join the Bookclub
Win free books, get access to exclusive author interviews and see sneak peeks at my upcoming books.
---