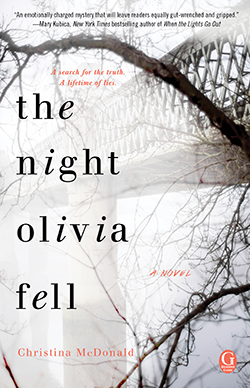 *USA Today Bestseller
*Barnes & Noble Bestseller
*Best books of 2019 by PopSugar, SheReads, Parade
*Suspense Magazine Best Book of 2019
*Best in month pick by Marie Claire, BookBub, Goodreads, Crime Reads
*Booklist Starred Review

---
They said it was an accident
In the small hours of the morning, Abi is startled awake by a phone call and learns that her teenage daughter Olivia has fallen off a bridge. Not only is Olivia brain dead, she's pregnant and must remain on life support to keep her baby alive. And then Abi sees the bruises circling Olivia's wrists.
Her mother knows they're lying.
When the police rule Olivia's fall an accident, Abi decides to find out what really happened. Was Olivia's fall an accident? Or something far more sinister?
A domestic suspense novel set around Puget Sound's coast in Washington State, The Night Olivia Fell asks how well we ever really know our children, weaving together a story of family secrets and devastating lies.
Book Club Reading Group Guide – *May contain spoilers
Praise for The Night Olivia Fell
"If you like your gripping mysteries to keep you guessing till the very end, then look no further." Heat Magazine
"Twists and turns galore in this clever tale." The Sun
"A haunting mystery that builds intrigue and emotion effortlessly." Woman Magazine
"Buckle up your seat belts for this emotional rollercoaster of a novel." Red Magazine
*"McDonald ratchets up the suspense with every chapter, including plenty of gasp-worthy twists and turns as Abi and Olivia's story pushes towards its devastating conclusion. The suspense is supplemented by relationships of surprising depth and tenderness, providing balance and nuance to the story. A worthy debut from an up-and-coming domestic-suspense author; readers who enjoy mother-daughter stories in the genre should line up for this one." Booklist, Starred Review
"[A] complex, emotionally intense first novel…Fans of twisty domestic suspense novels will be rewarded." Publishers Weekly
"Even though what will happen is known early on, this book is a tearjerker, so have tissues at hand. A well-structured story of how lying corrupts from the start that will keep pages turning." Library Journal
"If you're already putting together your 2019 TBR list of must-read thrillers, you're probably going to want to add The Night Olivia Fell to it ASAP." – Bustle Magazine
"A stunning thriller that instantly grabbed me by the throat and wouldn't let go until the final poignant sentence. McDonald artfully brings to the page the emotionally fraught, complex relationship between mother and daughter in this atmospheric, absorbing page-turner. The Night Olivia Fell cracked my heart into a million pieces and then slowly pieced it back together again." –Heather Gudenkauf, New York Times bestselling author.
"In Christina McDonald's The Night Olivia Fell, Abi gets the call every mother fears: her daughter has fallen from a bridge and is brain dead…but was it an accident or a crime? McDonald reveals the answer in steady, page-turning increments, a gradual unfolding of truths and long-held secrets that culminates in a heart-wrenching resolution. A suspenseful debut that packs an emotional punch." –Kimberly Belle, internationally bestselling author.
"Christina McDonald has crafted an emotionally-charged mystery that will leave readers equally gut-wrenched and gripped. The Night Olivia Fell welcomes a talented new addition to the world of domestic suspense." –Mary Kubica, New York Times bestselling author of The Good Girl and When The Lights Go Out.
"Christina McDonald's The Night Olivia Fell takes a mother's worst nightmare to a whole new level. This is an intense, twisting, heartbreaking thriller that explores in painful detail the consequences of family secrets. The reader will be riveted until the final page…and may even feel a bit of hope when all is said and done. Don't miss this one!" –David Bell, bestselling author of Somebody's Daughter.
"I was absolutely hooked, it was such an emotional read that I was broken by the end. Heartbreaking and thrilling at the same time." –Jenny Blackhurst, bestselling author of How I Lost You.
"Beautifully written and moving with characters I felt I knew, The Night Olivia Fell is a stunning debut that kept me guessing right until the final, heartbreaking twist." -Claire Douglas, Sunday Times bestselling author of The Sisters, Local Girl Missing and Last Seen.
"The Night Olivia Fell is so much more than the typical suspense story. While it has all the paramount trademarks, including secrets, lies, and formidable tension, it is in a league of its own with its intensely relatable characterization and raw emotion." –Jennifer TarHeel Reader Book Blog. Read more
"Heart-wrenching, emotional, beautiful, suspenseful, thought-provoking, and uplifting—this is a book that is filled with love in many forms. It made me think about the chain of events that lead up to and away from a tragedy, and how we go about getting answers and finding a way to move forward when the worst happens. It is a story about the love of a mother, and the unrelenting pursuit of justice for her daughter." –Mackenzie, PhDiva Book Blog. Read more
"This is a book that left me with tears in my eyes and hope in my heart! I absolutely recommend for anyone who enjoys a beautiful story about the love between mothers and daughters with a huge dose of suspense thrown in." –Berit, AudioKilledtheBookmark Book Blog. Read more
"Emotional, suspenseful, and hard to put down! An emotional page-turner!" –Holly B, DressedToRead Book Blog. Read more
"A stunning, beautifully written debut by a talented author. An experience in empathy to the max." Melisa, TheBookCollective Book Blog, Read more
"I can wholeheartedly (even though half my heart is gone after reading this)… say that The Night Olivia Fell deserves 5 shining stars. This has a spot on my shining bookshelf for life!" –Kendall, Book Blogger and Top Goodreads Reviewer. Read more
"Heartbreaking and heart mending." –Crystal Brown, Goodreads Reviewer
"Beautiful, emotional, heart-wrenching, and filled with love." –Mackenzie – Traveling Sister, Goodreads Reviewer
"Not only kept the pages turning but really made me feel something for the characters." –Rebekah, Goodreads Reviewer
"Captivating from the very first page." –Susan Peterson, Goodreads Reviewer
---
Publicity
BuzzFeed – 13 Thrillers We Can't Stop Thinking About In 2019
PopSugar – The 15 Best Female-Authored Books of 2019
Suspense Magazine – One Of The Best of 2019 Books in Debut Category
SheReads – The Best Thrillers Of 2019
PopSugar – 50+ New Thrillers That Should Be On Your Radar This Year
Marie Claire – The Best Fiction Books By Women This Year
Red Magazine – The Best Crime Novels And Thrillers Out This Spring
Ms. Career Girl – Chilling Winter Thrillers To Keep You Warm And Reading All Night
Marie Claire – The Best Women's Fiction of 2019 (So Far)
Cosmopolitan – 28 Of The Most Anticipated Books Of 2019
Mind Body Green – Well Read: The 5 Books You Won't Be Able To Put Down This February
Goodreads – Most Popular Books Published in February 2019
Parade Magazine – Debut Novels Everyone Will Be Reading In 2019
Bustle – 24 Fiction Books Coming Out In February That You Definitely Need To Read
PopSugar – 17 Books We're Adding to Our Must-Read Lists in February
Get Literary – Escape the Cold With New February Fiction!
Crime Reads – February's Best Psychological Thrillers
BookBub – 14 Spine-Tingling Psychological Thrillers Hitting Shelves This Year
BookBub – The Best Book Club Books of 2019
Goodreads – The 36 Big Mysteries & Thrillers of 2019
Get Literary – 20 Most Anticipated Books to Add to Your TBR
Betches – What To Read This Winter Based On Books You Already Love
PopSugar – 10 Of The Most Anticipated Books of 2019 – All By Women
She Reads – The Most Anticipated Books of 2019
Hollywoodthewriteway – 2019 Book Releases On My Radar
Bustle Magazine – Cover Reveal
Nightcap Books – Top Ten Tuesday: Most Anticipated Releases for the First Half of 2019
PopSugar – Embrace the Chill This Winter With These Terrifying New Thrillers and Mysteries
Cultured Vultures – 10 Debut Novelists to Watch out for in 2019
Booklist Reader – Best New Books: Week of February 5, 2019
She Reads – 12 Must-Read Winter Thrillers
Crime Reads – February's Best Debut Thrillers and Crime Novels
The Nerd Daily – February Book Releases: Fiction
First For Women – 7 Books We're Loving Now
Goodreads – The Top 28 Hit Books (So Far This Year)
BookBub – 18 New Books with Shocking Endings
BookBub – The Most Wanted Books of the Year
Interviews & Articles
Red Carpet Crash – Author 'Christina McDonald' Talks Her Great Debut Novel The Night Olivia Fell
KEWM-FM's Sunday Morning Magazine, Inspirational Women – Author Christina McDonald talks about The Night Olivia Fell
Crime Thriller Girl – Christina McDonald Talks About The Night Olivia Fell, Social Media and Sun
Jane Friedman – How to Grow an Email Newsletter Starting from Zero
Women Writers, Women's Books – Me and My Agent
Crime Reads – 8 Thrillers Featuring Moms On A Mission
The Strand Magazine – 10 Books Featuring Complex Mother-Daughter Relationships
She Writes – Rejection, Redemption, and a Bidding War