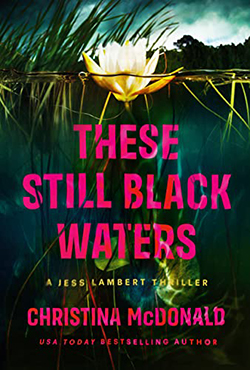 *GOODREADS Readers' Most Anticipated Fall Mysteries & Thrillers
*SHE READS Most Anticipated Thrillers, Mysteries and Suspense of Summer 2023
*NETGALLEY Most Anticipated Thrillers of 2023
*WESTPORT MAGAZINE Summer Reads
*GOODREADS Summer's Biggest Mysteries

---
Some secrets are best left buried
After a violent home invasion, Neve Maguire returns with her daughter to Black Lake, her childhood summer home, hoping for a fresh start. But when the body of a woman is found floating among the reeds in the lake behind her house, she fears she has made a horrible mistake.
But others are worth killing for
Neve is hiding secrets, though. Detective Jess Lambert can tell. Recently back after her own personal tragedy, Jess knows what it's like to live with skeletons in your closet, and she's sure Neve has a few of her own.
When another woman's body is found, Jess and Neve are forced to confront a horrible truth. Because one thing is clear: the darkness of the past is waiting. And the secrets of Black Lake are only just beginning to surface.
Praise for These Still Black Waters
"Atmospheric and inventive, Christina McDonald's THESE STILL BLACK WATERS pulled me in on page one and held tight. A haunting and beautifully written thriller chock full of secrets that won't stay buried, McDonald is a masterful storyteller. A truly nightmarish trip to the lake guaranteed to keep readers enthralled." —Heather Gudenkauf, New York Times bestselling author of The Overnight Guest
"A whip-smart and completely unexpected story of a killer out for revenge and a damaged detective out to stop him, a phenomenal story built on gorgeous prose and twists so surprising they'll leave you breathless. This is not the book you think it is, and I mean that in the best possible way." —Kimberly Belle, internationally bestselling author of The Personal Assistant
"Christina McDonald always delivers a gripping, twisty, thriller and THESE STILL BLACK WATERS is no exception. Detective Jess Lambert, damaged both physically and emotionally, must stop a killer set on avenging the dark secrets of the past. But as the body count rises, and the story hurtles toward a shocking and unique reveal, Jess must face her own demons before it's too late." —Robyn Harding, bestselling author of The Perfect Family
"No one does dark heartbreak like Christina McDonald—and this captivating thriller wraps its sinister self around you the minute you begin.  Gorgeously written and deeply immersive, this relatable story of envy and grief and motherhood and friendship will also haunt long after you close the final shocking pages.  Edgy, original, and completely surprising, These Still Black Waters is a triumph of storytelling." —Hank Phillippi Ryan USA Today bestselling author of The House Guest
"Christina McDonald shines in THESE STILL BLACK WATERS, a dark and dazzling thriller. The twists and turns culminate in an ending we promise you won't see coming. Highly recommend!" —Liz Fenton and Lisa Steinke, authors of Forever Hold Your Peace
"THESE STILL BLACK WATERS has it all: electric writing, complex characters, a touch of the supernatural, and whiplash twists guaranteed to keep you up long past your bedtime." —Jess Lourey, Amazon Charts bestselling author of The Quarry Girls