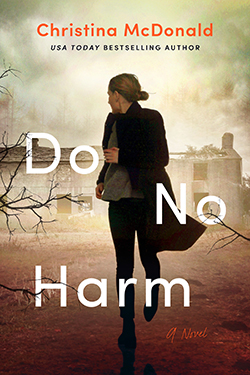 *BARNES & NOBLE Bestseller
*REAL SIMPLE, Best New Book To Read in 2021
*POPSUGAR, Greatest Mystery and Thrillers of 2021
*GOODREADS, Readers' Most Anticipated Books of February
*POPSUGAR, Best New Mystery & Thrillers for February
*GOODREADS, Most Anticipated Mysteries & Thrillers of 2021
*THE NERD DAILY, Most Anticipated Books of 2021
*POPSUGAR, Greatest Mystery & Thrillers of 2021
---
Even good people
Emma loves her life. She's the mother to a precocious kindergartener, married to her soulmate—a loyal and loving detective—and has a rewarding career as a doctor at the local hospital.
But everything comes crashing down when her son, Josh, is diagnosed with a rare form of cancer.
Get addicted to bad things
Determined to save Josh, Emma makes the risky decision to sell opioids to fund the life-saving treatment he needs. But when somebody ends up dead, a lethal game of cat and mouse ensues, her own husband leading the chase. With her son's life hanging in the balance, Emma is dragged into the dark world of drugs, lies, and murder. Will the truth catch up to her before she can save Josh?
A timely and moving exploration of a town gripped by the opioid epidemic, and featuring Christina McDonald's signature "complex, emotionally intense" (Publishers Weekly) prose, Do No Harm examines whether the ends ever justify the means…even for a desperate mother.
Praise for Do No Harm
"Gripping and unflinching, Do No Harm explores the ferocity of a mother's love – and shows, in heartbreaking detail, how she'll risk everything to save her child." —Sarah Pekkanen, New York Times bestselling author
"Do No Harm is a pulse-pounding deep dive into the dark heart of addiction. The stakes couldn't be higher in this smart, breathlessly-paced, and emotional novel about love, family, and how far we'll go when our child's life hangs in the balance. Riveting, ripped from the headlines, and not to be missed." —Lisa Unger, New York Times bestselling author of Confessions on the 7:45
"Christina McDonald has a real talent for bringing suburban domestic suspense to life, and showcases it to great effect in Do No Harm. Tense, taut, and absolutely unmissable, you'll find yourself wondering how far YOU would go to save your child's life." —J.T. Ellison, New York Times bestselling author of Lie to Me
"Devastating, heartbreaking, and incredibly timely – this risky and brilliant examination of when the ends justify the means will captivate you from moment one. The talented Christina McDonald dissects the crumbling marriage of two good people, and reveals how love and obsession can combine to destroy even the most perfect family. As a doctor's vow of "do no harm" twists into "do whatever it takes," you'll be riveted by this thought-provoking and tragically believable story." —Hank Phillippi Ryan USA Today Bestselling author
"A gripping page-turner with a heartwrenching moral quandary at its core. Do No Harm is tense, moving, and disturbingly relevant." —Robyn Harding, Internationally Bestselling Author, The Swap
"Do No Harm is a gripping and unflinching novel. Christina McDonald demands an answer to the ultimate question: How far would you go to save your child? One thing is for sure: your heart will be ripped out as you whip through each page to discover the answer. Highly recommend! —Liz Fenton & Lisa Steinke, authors of How To Save a Life
"McDonald takes the heart-wrenching premise that has become her trademark and ratchets it up a notch in Do No Harm, blurring the lines between good and evil in a doctor desperate to save her sick child. A gripping, emotional roller coaster with a sting in the tail." —Kimberly Belle, internationally bestselling author of The Marriage Lie
"Christina McDonald knows how to pack an emotional punch! Do No Harm is a riveting, thought-provoking novel that keeps you reading even as it breaks your heart. This might be my favorite book by McDonald yet." —Samantha Downing, USA Today bestselling author of My Lovely Wife
"With her trademark emotionally gripping, outstanding writing, Christina McDonald tackles the moral and ethical lines crossed by a doctor desperate to save her child. A stunning gut-punch of a suspense novel, Do No Harm expertly merges the dangers of the opioid crisis with a mother's love, leaving readers gasping for more. A breathtaking read." —Samantha M. Bailey, #1 bestselling author of Woman on the Edge
"Nobody writes motherhood like Christina McDonald. Her third novel, Do No Harm, is a riveting thriller which braids the complexities of modern parenting with the pressures of finding a moral centre in a devastating opioid crisis. Heartrending, heart-pounding and fearless to the last word." —Amber Cowie, author of Loss Lake