Born in India and raised in North America, A. J. Banner graduated from high school in southern California and received degrees from the University of California, Berkeley. A long‑time fan of Agatha Christie, Daphne du Maurier, and Alfred Hitchcock Presents, A. J. enjoys writing atmospheric stories with unexpected twists and turns. She lives in the Pacific Northwest with her husband and six rescued cats.
---
The Poison Garden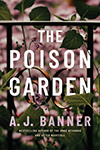 Elise Watters seems to have it all—a blissful marriage, a gorgeous Victorian home surrounded by lush gardens, and a dream job running her late mother's herbal boutique.
But on the eve of her first wedding anniversary, Elise makes a shocking discovery that turns her life upside down and casts doubt on everything she thought she knew—about her marriage, her friends, and even herself. As she treads into dangerous territory, Elise is forced to wonder: Is her whole future at stake? Or is paranoia getting the best of her?
Buy on Amazon US  |  Buy on Amazon UK  |  Buy on Indiebound 
My review
Dazzling and at times frighteningly real, this eloquently written domestic suspense is a deceptive hall of mirrors experience. A thrilling, fast-paced read, The Poison Garden is compelling and thoroughly enjoyable.
---
Author's Corner – interview with A.J. Banner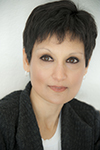 Can you tell me something about you that your readers might not know?
Oh, so many things!! I learned classical piano, but these days I enjoy sounding out the piano riffs in salsa music. I unwind after a day of writing by making shapes with modelling clay. I love all animals, live with rescued cats and feed a variety of birds and chihuahua-sized squirrels at the feeders in our garden. When I go for daily walks, I pick up worms and slugs off the road and place them in the woods, so cars won't run them over.
How has being a bestselling author changed things for you? Do you still write the same, or is there more/less pressure now?
The success of my novels—especially The Good Neighbor—has allowed me to become a full-time writer for the time being. I'm grateful to my publishers and to all the amazing and supportive readers who've bought my books. But I'm aware that I'm a bestselling author only in the past. I never know what's coming next.
I feel as though I'm starting all over again with each book, wrestling with each concept, revising ad nauseum (I rewrite my manuscripts in a radical way, so that the final drafts rarely even remotely resemble the first drafts). I've learned that success is fleeting. A writer's career is a roller coaster ride, unpredictable, full of elation and terrible disappointments. I've learned that the true joy comes from the act of writing itself, from the transcendent experience of creating a story. And when I touch the heart of a reader who loves my work, I'm gratified and reminded of why I do what I do.
What are some of the jobs you had before becoming an author? How have they helped you in your writing career now?
Oh, yes, that thing called real life, about which we write, right? I've travelled, studied psychology and anthropology, tried a short stint in law school, analyzed stock trades for an investment consulting firm, worked for a veterinarian, and as a student, I volunteered for Jane Goodall's' ChimpanZoo program for a short time.
If you could recommend any other book(s) that you've read and loved recently, what would it be?
Too many to name! But I'll name a few. I recently read Deep Work and Digital Minimalism by Cal Newport, both life-changing books about focusing on deep, meaningful creative work and minimizing what he calls "shallow" work, or time spent on social media, texting and so on.
I loved Anjali Sachdeva's book of short stories, The Names They Used for God, and I recently re-read The Handmaid's Tale by Margaret Atwood—stunning. I'm currently reading a highly entertaining whodunnit by Richa Mukherjee, Kanpur Khoofiya Pvt. Ltd, and a beautifully written novel by physician-researcher Vikram Paralkar, Night Theatre (not for the squeamish, as he does describe surgeries).
I also loved The Oysterville Sewing Circle by Susan Wiggs and your book, The Night Olivia Fell, which I found riveting!
The person who helped you fall in love with reading was:
My parents, who took me to the library when I was a child. Special shout-out to my dad, who read to me every night at bedtime when I was little. He read me all the books in the Chronicles of Narnia, Tolkien's the Hobbit, and more.
What is your favorite place to read?
I read in bed with a book light, or I read in my vintage travel trailer, which is my satellite home office!
Writing The Poison Garden
Describe The Poison Garden in three words:
Dreamlike, twisty, atmospheric.
What scene did you enjoy writing most?
I worked through so many drafts of this book, it stopped being fun. But okay, I enjoyed writing the scene in which Kieran unexpectedly shows up at the end of Elise's bed when she wakes. And maybe the scene in which Elise first discovers something shocking, right around the middle of the book, and goes looking for a particular person to which a particular terrible thing might have happened. Sorry to be vague, but I don't want to give away the story!
What actress and actor would you cast to play Elise and Kieran?
I thought of Diane Lane as Elise and possibly Alexander Skarsgard as Kieran.
Was the ending planned from the beginning or did it evolve as you wrote it?
The ending absolutely evolved. I didn't even think of the final twist until the fifth or sixth draft of the novel. What appears to be a smooth, taut storyline (I hope) took a lot of work to achieve. A lot. Of. Work.
What do you think readers will love about The Poison Garden?
One thing I know for sure: taste in fiction is highly subjective. What one reader loves, another will dislike. This is inevitable. My job is to remain true to my story, write the best book I can write and hope for the best.
That said, I believe many readers will enjoy the twists and turns and the unpredictable ending. There are slight elements of almost-but-not-quite magic realism in this novel, which makes the story fun, I think, for readers willing to hop aboard for the ride.
I loved that Elise owns an herbal boutique shop and how you wove the poison garden into this book! Where did that idea come from?
To be honest, I have no idea. As Stephen King once wrote, ideas come "sailing at you right out of the empty sky."
We have a tangled, diverse garden of flowers and herbs around our house. Maybe the idea came from there, I don't know.
This story had so many surprise twists and turns! Do you plan your twists, or do they come to you as you write them?
I revised this novel six times, and each time, the twists and ending were different. The novel morphed from a story about a woman who discovers she's a stolen child (she inherits a Victorian home and gardens from a stranger who turns out to be her birth mother), into a story about a woman who inherits her mother's Victorian home and herb gardens and begins to believe that her life might be in danger.
Get In Touch
A.J. loves connecting with readers. You can get in touch with her at:
---
Win free books from your
favorite authors
Sign up for my free book club newsletter for chances to win books and read book reviews and exclusive author interviews from authors like Heather Gudenkauf, David Bell, Jane Shemilt, and more.