Hank Phillippi Ryan is the USA Today bestselling author of 12 thrillers, winning the most prestigious awards in the genre: five Agathas, four Anthonys, the Daphne, and for The Other Woman, the coveted Mary Higgins Clark Award. She is also on-air investigative reporter for Boston's WHDH-TV, with 37 Emmy's and dozens more journalism honors. Book critics call her "a master of suspense," "a superb and gifted storyteller." Her thriller The Murder List won the Anthony Award for Best Novel of the Year. Her newest novel is The First To Lie.
In Conversation With…
Christina McDonald is the USA Today bestselling author of Do No Harm, Behind Every Lie and The Night Olivia Fell (Simon & Schuster/Gallery Books), which has been optioned for television by a major Hollywood studio. She's from Seattle but now lives in London, England with her husband, two sons, and their dog, Tango. She's currently working on her next novel.
---
Do No Harm
Emma loves her life. She's the mother to a precocious kindergartener, married to her soulmate—a loyal and loving detective—and has a rewarding career as a doctor at the local hospital.
But everything comes crashing down when her son, Josh, is diagnosed with a rare form of cancer.
Determined to save Josh, Emma makes the risky decision to sell opioids to fund the life-saving treatment he needs. But when somebody ends up dead, a lethal game of cat and mouse ensues, her own husband leading the chase. With her son's life hanging in the balance, Emma is dragged into the dark world of drugs, lies, and murder. Will the truth catch up to her before she can save Josh?
Pre-Order Offer
Pre-order from one of the below indies and you'll receive a free specially designed bookplate that I've personally signed with your book!
Murder By The Book  |  Warwick's  |  Mac's Backs – Books on Coventry  |  Elliott Bay Books
 Pre-Order From Other Retailers
Amazon  | Amazon UK  |  Barnes & Noble  |  IndieBound  |  Apple  |  Google  |  Kobo
Hank's review
"Devastating, heartbreaking, and incredibly timely – this risky and brilliant examination of when the ends justify the means will captivate you from moment one. The talented Christina McDonald dissects the crumbling marriage of two good people, and reveals how love and obsession can combine to destroy even the most perfect family. As a doctor's vow of "do no harm" twists into "do whatever it takes," you'll be riveted by this thought-provoking and tragically believable story." —Hank Phillippi Ryan USA Today Bestselling author
---
Author's Corner – Hank Phillippi Ryan Interviews Christina McDonald
Hank: Your "In Conversations" are consistently wonderful, and you're so generous to do them. But now we're turning the tables on you!  I love how you always ask authors to tell them one funny quirky thing about themselves, and now I get to ask you the same thing. Tell us something about you that we would be surprised to hear.
Christina: Something people usually find a little quirky about me is that I write to hard trance music. I love music and have it on wherever I am – in the car, going for walks, cooking – and writing is no exception. I need it to work, but I can't have lyrics or I just end up writing the lyrics instead of the words I want. Trance music allows me to write fast, think fast, type fast, and there are no lyrics to distract my brain. It's perfect! It's really the one thing I absolutely need in order to write.
Also, I love tacos, the beach and f-bombs (I blame going to university in Ireland for this!), and once in a club in Dublin I rapped Gangsta's Paradise at Coolio. I don't think he was very impressed. lol
Hank: Wait–what is trance music? (And I bet Coolio is sending you fan mail as we speak.)  But singing aside, did you always want to be a writer? What was the first thing ever – that you remember writing? Did you show it to anyone? What did they say?
Christina: I'm definitely one of those people who always wanted to be a writer. When I was a girl I told my first stories to my little sisters, and as I got older I made up elaborate, creative stories that my friends and I would act out. Mostly they were to do with riding horses and falling in love. lol But writing novels was always my dream.
The very first story I remember writing (this is going back to when I was about 7 or 8 years old!) was about a girl who was very poor and all she wanted was as much candy as she could possibly eat. One day, the girl and her sisters realized they had hair that was made of real gold. So they cut their hair and took it into the bank and sold it, then used the money to buy all the candy they wanted. Clearly I had a lot to learn about stakes and plot twists. lol
Hank: Oh, that sounds very Gift of the Magi, doesn't it? Clearly you had talent.  Now you've  transported yourself from Seattle and are living in London.  Has that changed how you write or think or see the world?
Christina: Yes, most definitely! I think learning about different cultures and the way different people live opens up your mind to a new way of thinking, to the possibility that there are other 'right' ways to live, or at least 'right' for each individual. In America we're sort of taught we are the only free society, we are the best country, the only culture that matters, and traveling and living abroad showed me that there are so many sides to see things from, so many 'right' stories.
Hank: And you  have a masters in journalism from the National University of Ireland! How did that happen, and why?
Christina: It's sort of a sliding doors story, actually! I'd just graduated from college when 9/11 happened, and there weren't a lot of jobs going in journalism, so I worked as a waitress and saved up to go traveling. I landed at Heathrow Airport in London after an overnight flight and I staggered exhausted and confused down the Arrivals hall with no hotel booked, no onward journey organized, nothing.
I spotted an Aer Lingus desk and decided in that moment to go to Ireland instead of staying in London. I hopped the next flight and ended up traveling the country. I loved everything about it. I found out there was an excellent Master's in Journalism at the National University of Ireland, and I applied and was accepted. A few months later I'd moved to Ireland in Galway, and a few months after that I started it I met my future husband, and the rest is history!
Hank: Perfect sliding doors. Has your journalism and communications training helped you in telling fictional stories?
Christina: Absolutely! In journalism you're guided first by the story and second, the deadline. So these things have helped me in planning and submitting my work. Journalism also gives you the ability to look at a story objectively; why is a source telling you something? What is their motivation? What slant do they have? And these are the things you look out for as an author in telling your own protagonist's stories.  You also look out for the 5 Ws in writing, whether in journalism or in writing fiction: who, what, when, where, why. And these questions and their answers shape how you tell your story.
Hank: I so agree. And in fiction, as in journalism, I always ask myself: "Why do I care?" It makes such a difference in the story.  So on to the important stuff now: Are you a good cook? And another truly important question: your dog is named Tango? Why?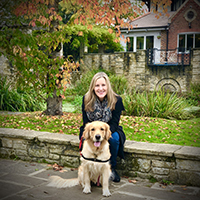 Christina: I think I'm a good cook! Lol I don't like cooking as much as I used to, as now I'm always trying to balance what each person in my family likes and dislikes with a good balance of vegetarian and meat meals, so it's become a little annoying. But I love baking! It feels more like creating something artistic than just consumption.
Tango's name was something we sort of fell into. My family and I couldn't agree on the perfect name for Tango before we got her as a puppy, but we found out the whole litter had been registered under the names of dances: Lindy Bop, Tango, Samba, etc. We all adored the name Tango, so we kept it.
Hank: So cute!  It's perfect. Let's think back: My first job was at the Dairy Queen, making dilly bars and dipped cones.  What was yours? Did you love it?
Christina: My first job was as a data entry specialist. You know those forms you used to fill out at fairs to try to win a car? I entered all of that data into data entry software so those annoying telemarketers could call and try to sell you things. Lol I found the job at the back of a newspaper and I was really fast at typing so they hired me. I probably worked far too much for a 16-year old, but it paid well and I liked it.
Hank: My second job–at 17!–was a proofreader at a legal publishing house–isn't that weird?  I loved it. Now I get to ask you the dinner party question!(Remember dinner parties? People would come to your house, actually came inside. And food was shared. Whoa.) But since imaginary is as good as it is going to get these days, what five people, dead or alive, would you invite? And why?
Christina: I'd invite Neil deGrasse Tyson so I can pick his brain on all the mysteries of the universe.
Tom Hanks because he's like everybody's dad and I'd love to give him a hug.
Malala Yousafzai because she's such a wonderful advocate for human rights and women everywhere.
Princess Diana because that tension between head and heart is intensely fascinating.
And Agatha Christie because I'd love to know how her brain worked, but also because I think she had a lot of secrets she was sitting on!
And as a bonus, I'd also invite Jennifer Lawrence because she would just be so fun! She's so self-deprecating and hilarious and down to earth. I love her.
Hank: Oh, invite me! That sounds fabulous.  Now let's talk about your new book, Do No Harm.
Writing Do No Harm
Hank: Do No Harm. Wow. It's chilling, and terrifying, and incredibly thought-provoking. Tell us–just a little. (It's difficult to talk about a thriller, isn't it, because we don't want to give anything away.) But what was your first moment of thinking of this story?
Christina: I've wanted to write a book against the backdrop of the opioid epidemic for a while now because my brother has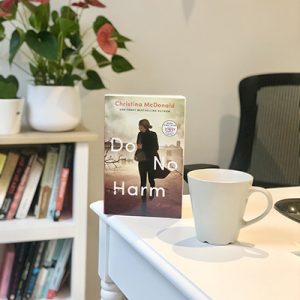 suffered addiction for most of my adult life. It's a difficult thing to watch someone you love go through, especially when their reason for starting on opioids (my brother was injured at work and had back surgery) seems perfectly reasonable. He was given opioids legally and became hopelessly addicted from then on.
There are so many sides to the opioid epidemic and I've wanted to confront some of them for a long time, but the first moment I really had a plot idea was reading a news story about a podiatrist who started up an opioid ring in Indiana. I wondered why he did it, was it just money, power, fame? Everybody has a reason for doing things; we don't make choices in a vacuum. I was interested in exploring what these reasons could be from the other side of my brother's situation struggling with addiction. And so Do No Harm was born.
Hank: That title is so ironically simple, and so deeply multi-layered. It's perfect. Talk about that a bit. Was that instantly the title?
Christina: Do No Harm is the first book I've written where I decided not to pick a title until I'd finished writing the book. So when I sat down to brainstorm titles, one of the most obvious ones was Do No Harm, which is included in the Hippocratic oath that doctors take. And it's so poignant to me because of course Emma is doing harm, despite her vow. I pitched it to my agent and editor and they both loved it immediately, so we kept it.
Hank: The book is poignant about the incremental steps people take in making a decision–and how, sometimes, step by little step, we wind up in a place we never thought we'd be. I wonder–did you know the end before you started?
Christina: I never know the end when I start a book. I'm a pantser through and through, so I didn't even know the baddie or the extent Emma would go until I wrote it. In some ways, writing is a journey of me finding out, just as much as a reader reads to find out.
But I think it's really insightful pointing out how we very rarely make sweeping choices—mostly our lives are run by the small choices that all lead up to the big result, and Do No Harm is no different. Emma doesn't set out to hurt anyone. In fact, she sets out to save everyone, most particularly her little boy. But so many times in fiction and in life, our smallest choices lead us down the biggest paths, often to endings we don't predict or even expect.
Hank: I write the same way–and I am often so surprised! Do No Harm is incredibly authentic–all of the medical elements and procedures, woven through the book in such a seamless way. How did you do that research?
Christina: I did months and months of research for this book—more than any book I've ever written. I read about and spoke to doctors about the medical processes of dealing with CAR-T stem cell therapy in treating leukemia; I read vast troves of research about addiction; I even spoke to a police officer to make sure Nate's chapters and all the things that go into the DEA and local departments busting drug dealers was authentic. Once I'd finished writing the book, I had various people read for authenticity and to ensure details were correct. It was a whirlwind year for sure!
Hank: And the police work, as well, so authentic. Is this just your imagination?
Christina: A lot of it is imagination, but I verified everything with an actual police officer I know in Seattle to ensure I'd written the processes and terminology authentically. In my imagination I thought, 'sure a detective can be hired with the Drug Enforcement Agency', but I didn't know if that was really true, so I reached out to my contact to verify everything I didn't know for sure.
Hank: Of course, the key to the story is a mother's love for her child. In publishing circles, that's called relatable, because one way or another, we all understand how that must feel. What's right and wrong twists and changes, doesn't it? And when you're a mother… 
Christina: Exactly! When I read that story about the podiatrist starting a drug ring I wondered so much about his motivations, and the only reason I believed that would be in any way excusable to start an opioid ring was to do it for love of another person, specifically your child. And that makes Emma so much more relatable, because wouldn't we all do just about anything to save our child's life?
Hank: And of course–a marriage is at the center of this, too. A loving marriage that's seething with conflict on every level. I keep using the word authentic–but that's how this marriage feels, too. The impossibility of deciding what "do no harm" means in a marriage.  How do you want people to think about such relationships when they're reading this?
Christina: Emma and Nate's marriage was so wonderful and heart breaking to write. On the one hand, he basically saves her from a loveless life. He gives her a family, which is the thing she's always wanted, but she makes these choices that drive him further and further away. They're impossible choices—her husband or her son?—but the real world is full of impossible choices, and to me that was the most intriguing part about writing their relationship. There are very few perfectly 'right' answers, and here we have that taken to the extreme.
Hank: I imagine book clubs will absolutely go crazy for Do No Harm!  There's so much to talk about— and each person will have to consider whether they would make the same decisions as Emma does. Did you think about what you personally would do?
Christina: All the time! I'm not even kidding, literally this morning I was thinking about it! Lol I go back and forth. Without giving away any spoilers, you can't make these sorts of choices without losing something. You gain something, you lose something else. I don't judge Emma or think she was 'wrong' exactly and I have so much empathy for her because I think life's about compromise and, as I said above, I think there are few 'right' choices. Emma makes a lot of wrong ones for sure. Would I do the same thing? I can imagine it both ways, but I know I'd lose something, so sometimes I don't try to imagine either way too hard—except in relation to Emma, of course.
Hank: Your very first reader–editor? Agent? Relative? Friend? What did they say when they handed you back the book after they'd read it?
Christina: My very, very first reader is always my husband. I want to get a general reaction from him, to make sure it a) makes sense and b) has an emotional impact. My real test though is my agent, who is my first 'real' reader. I can't remember her exact words, but she loved Do No Harm and seemed genuinely blown away by it, so that made me pretty happy. It's also the first book I've written where my editor did not come back with any edits. She loved it the moment she read it. That's never happened before, and likely won't again! lol
What's next for Christina McDonald?
Hank: I know most interviewers would ask what's next for you, but I don't want to know about the next book—I want to revel in the current one. Unless…there's something you'd like to tell us? And either way–where can we find your launch-and-beyond events?
Christina: I'm still working on my next book, so I can't really reveal too much, but for Do No Harm I have a number of really exciting virtual events coming up where I'll be chatting to readers, bloggers, book shops, and librarians. Here are some of the places you can find me: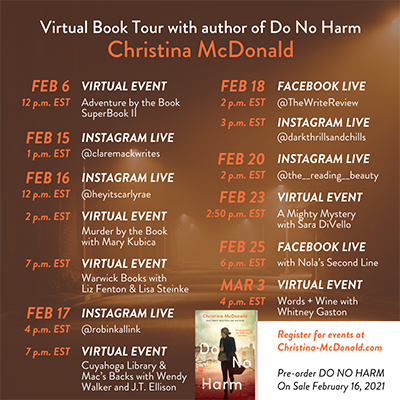 Get In Touch with Christina
Christina loves connecting with readers. You can get in touch with her at:
Website | Instagram | Twitter | Facebook
Get In Touch with Hank
Check out Hanks books or see which event you can chat to her at next.
---
Want to Share this post? Here's your ready-made tweet:
---
More from Author's Corner