Samantha M. Bailey is a Toronto-based novelist, journalist, and freelance editor. Her work has appeared in NOW Magazine, The Village Post, and Oxford University Press, among other publications. She was a writer-in-residence for Kobo Writing Life at Book Expo America 2013. She is the co-founder of BookBuzz, a promotional and interactive author-reader event held in New York City and Toronto. Woman on the Edge is her debut novel.
---
Woman On The Edge

On a platform in Chicago, Morgan's life is changed forever when a stranger hands her a baby, then jumps in front of an oncoming train. But Morgan quickly becomes entwined with the story when she becomes a suspect.
To prove her innocence, Morgan frantically tries to retrace the last days of the woman's life. She begins to understand that Nicole Markham believed she and her baby were in danger. Now Morgan might be in danger, too.
Was Nicole a new mother struggling with paranoia? Or is something much darker going on?
Buy on Amazon US  |  Buy on Amazon UK  |  Buy on Amazon CA  |  Buy on Indiebound 
My review
Exhilarating and evocative with a palpable sense of tension throughout, Woman on the Edge had me gripped from the very first page. This is one of those books that effortlessly ticks all the boxes: wonderful word building, realistic characters and a gripping plot that made me keep flipping the pages.
---
Author's Corner – interview with Samantha Bailey

Can you tell me something about you that your readers might not know?
I love to dance. When I was younger, I was a competitive jazz dancer and had dreams of going to Juilliard. But at five feet tall, I realized how hard it would be to make it as a professional dancer. But you'll definitely find me grooving to 90s hip hop to this day. Though I can't even touch my toes anymore.
Have you always wanted to be an author? Do you write full time or split your time writing and doing something else?
I always wanted to be a writer, as well as a dancer. I wrote and submitted my first book when I was ten years old. It was rejected, and it was an excellent lesson because I learned very young how hard this business can be. I just had to keep going and keep writing until it happened for me. I'm a freelance editor and journalist as well as a writer. I edit manuscripts, and I tend to split my time between editing and writing.
What are some of the jobs you had before becoming an author? How have they helped you in your writing career now?
So many jobs and they definitely helped me. I worked in a men's clothing store, a bar, and I sold fax paper and carpet cleaning over the phone. I was a babysitter, camp counsellor, and teacher. Each and every job gave me insight into people. And made me realize how much I wanted to go after my passion, which is writing.
Stranded on a tropical island, what would be the top three books you'd have with you?
Oh, hard question! I'll choose three books that impacted me greatly: The Bridge to Terabithia by Katherine Paterson, The Unbearable Lightness of Being by Milan Kundera, and She's Come Undone by Wally Lamb.
If you could recommend any other book(s) that you've read and loved recently, what would it be?
There are so many books I could recommend so I'll go with my most recent: Little Voices by Vanessa Lillie, He Started It by Samantha Downing, Behind Every Lie by…you, Stories We Never Told by Sonja Yoerg, The Unbreakables by Lisa Barr, Holly Banks Full of Angst by Julie Valerie, Extracurricular—Book 1 by Josie Brown, Sister Dear by Hannah Mary McKinnon, and Temper by Layne Fargo. I read a lot.
If you could invite five people (dead or alive) to a dinner party, who would they be and why?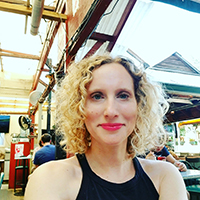 Gillian Flynn because I think she's a genius. Jennifer Weiner because her books are the reason I started writing novels. She's a huge inspiration to me. Judy Blume because she's an idol of mine. Reese Witherspoon so I can pitch my book to her. Sue Grafton, because we chatted a bit before she passed away, and her loss is immense and so heart-breaking in the literary community.
What is your writing process like? Plotter/Pantser/Both?
Former Pantser turned Plotter. I had to learn to outline and plot because with thrillers, for me at least, I do need to know the beginning, middle, and end, and most of the clues and beats, goals and motivations before I start writing. At the same time, I'm always itching to draft and see where the characters and story take me. So, I write a whole outline, scene by scene, then definitely change it as the story unfolds.
Writing Woman On The Edge
Let's talk about your new book. Can you tell my readers a little about it, how you came up with the idea and what inspired you to write it?
Woman on the Edge is the story of Morgan Kincaid, a young, struggling widow, who's waiting on a Chicago subway platform for her train home after work. Her life changes in seconds when a complete stranger grabs her wrist and whispers, "Take my baby." Then the stranger says Morgan's name, thrusts the baby into Morgan's arms, and jumps in front of an oncoming train.
It turns out the woman is Nicole Markham, CEO of Breathe, an incredibly popular and successful athleisure brand. As Morgan becomes a suspect in Nicole's death, she also discovers both she and the baby are in danger. She has to frantically retrace Nicole's last days to save the baby's life and her own.
The idea came to me six years ago when I was standing on a Toronto subway platform, watching people, as I always do. A woman holding a baby caught my eye. She was standing close to the edge, and I thought: What is she thinking? What is her story? I scribbled the premise on a gum pack, and Woman on the Edge was born.
Describe Woman on the Edge in three words.
Dark, chilling, shocking.
What scene did you enjoy writing most?
Also a hard question! I think the first scene because it's raw and visceral, frightening and emotional, and it took many drafts to get it right. I hope I did!
What actress and actor would you cast to play Morgan and Nicole?
It's funny. I don't visualize any one actor or actress, or anyone I know at all, as I write, though I do completely visualize the characters. If I had to, or got to choose, I think I'd love to see Charlize Theron, Rose Byrne, Stana Katic, Nicole Kidman, or Cate Blanchett as Nicole, and perhaps Mila Kunis, Jennifer Connolly, Naomi Watts, or Amy Adams as Morgan.
Was the ending planned from the beginning or did it evolve as you wrote it?
Without giving too much away, it was both planned and evolved.  It's very different from the first draft, but once I had a set draft, it went through revisions, re-organization, and tinkering, though the main elements of it stayed the same. That sounds confusing, doesn't it?
What do you think readers will love about Woman On The Edge?
I hope they love the fast pace and tension, the emotional depth I wanted to layer in for the characters and plot, the twists and turns, and the feminist power I wanted it to have.
I loved how the book spoke of how motherhood transforms us, and how difficult being a new mom can be. Nicole's anxiety throughout is palpable and real and I really felt for her, especially because it's so true and authentic. Was this intentional from the beginning, or did theme develop over progressive versions of the book?
Thank you! That was intentional from the very beginning. I have two children, and when they were babies, especially with my first, I experienced fear and worry. I didn't experience postpartum depression, but I absolutely felt very deeply the anxiety that comes with the both exhilarating and exquisite, almost painful, love for my children.
I did speak to many women who struggled with severe postpartum depression and anxiety, and their willingness to talk to me was invaluable in creating Nicole. I wanted to open a window into what new motherhood feels like, though from a thriller perspective, and how easily it can be manipulated by the wrong person or people. And to what lengths women will go to protect those they love.
What's next for Samantha?
Are you working on a new book? Can you tell my readers a little about it, a blurb, potential release date, etc? Where did you get the idea?
I am working on a new book, and it's a thriller, centered around a family drama and tragedy, with dark and twisty characters and scenes. It's in the early stages, so that's all I can say for now. But stay tuned!
Get In Touch
Samantha loves connecting with readers. You can get in touch with her at:
---
Want to Share this post? Here's your ready-made tweet:
---