Karen Katchur is the bestselling author of River Bodies. She has a bachelor of science degree in criminal justice and a master's in education. She lives in eastern Pennsylvania with her husband and two children.
---
Cold Woods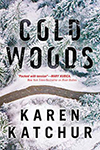 When the long-buried bones of a man turn up in the middle of December, Pennsylvania homicide detective Parker Reed knows he's in for a cold case.
Trisha and her friends were teenagers when Trisha's stepdad went missing. Now, thirty years later, his remains have been found in the mountains. The women have always known there was more to his disappearance than meets the eye, and they must confront their grim past. Secrets can stay secret a long time in the lonely Appalachian foothills—but not forever.
Buy on Amazon US  |  Buy on Amazon UK  |  Buy on Indiebound 
My review
A dark, thrilling police procedural with a splash of domestic suspense, Cold Woods is chilling, eerie, and ferociously smart. The second in the Northamptom County series (the first one, last year's River Bodies, was a bestselling hit), Cold Woods starts with a bang as mysteries and murder from past and present collide.
---
Author's Corner – interview with Karen Katchur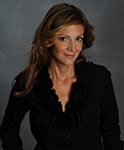 Can you tell me something about you that your readers might not know?
I love sports, especially tennis and ice hockey. Attending Wimbledon is high on my bucket list, although I hear tickets are really hard to come by. Also, BC (before children), my husband and I were season ticket holders for the Philadelphia Flyers.
What are some of the jobs you had before becoming an author? How have they helped you in your writing career now?
For a short time, I worked on a catastrophe team for an insurance company. I have a strange fascination with natural disasters. The devastation created in the wake of hurricanes, floods, fire etc…reminds me how small I truly am and that there are things so much bigger than me. I'm in constant awe of the power of Mother Nature. I think that's why nature plays an important role in my novels. It can often work for or against criminals, law enforcement, and forensic investigations.
If you could recommend any other book(s) that you've read and loved recently, what would it be?
The Wolf Wants In by Laura McHugh
Girls Like Us by Cristina Alger
Behind Every Lie by Christina McDonald
If you were granted one wish, what would it be?
For my kids to be happy and healthy. Is that two wishes?
If you could invite five people (dead or alive) to a dinner party, who would they be and why?
Roger Federer, so I can ask him how he stays motivated to keep on playing when he's already broken so many records, won championships, and reached more goals than any tennis player out there.
Oprah Winfrey, because who doesn't want to be friends with Oprah?
Tom Petty (RIP), because he's one of the best lyricists imo.
Stephen King, so I can thank him for scaring the hell out of me.
Martin Scorsese. It's a dream of mine to be behind the scenes of a movie set—from lighting, background, set design, costumes, editing, cameras, digital technology, whatever it is… I want to see how a story comes together from the first written word to the premiere opening on screen.
Writing Cold Woods
Let's talk about Cold Woods. Can you tell my readers a little about it, how you came up with the idea and what inspired you to write it?
Did you ever hear the quote, "A good friend will help you move, but a best friend will help you bury a body"? There are several variations out there, but you get the idea. Cold Woods is my version of this. I wanted to write a novel about female friendships, the kind that lasts decades. I also wanted to show what happens when women stick together under extraordinary circumstances of the criminal kind.
Describe Cold Woods in three words.
Friendship. Loyalty. Justice.
Cold Woods is the second book in the Northampton County series – can you tell us if readers need to read the first book (River Bodies), and what continues from that one into this one?
Cold Woods can be read as a standalone. Although Parker Reed, the detective in River Bodies, carries over into Cold Woods. This time he gains a partner, Geena Brassard. The series is a little different than the typical detective mystery. The other characters share just as much if not more page time than the detectives. The series is called Northampton County, because I wanted to explore how crime affects more than just law enforcement. I wanted to tell the stories from the point of view of victims, families, and communities that are impacted by crime.
What scene did you enjoy writing most?
There's a particular scene towards the end of the novel that I had the most fun writing, but I can't tell you about it without giving away spoilers. Sorry! But for the record, I love writing fight scenes which are often also the climax.
Was the ending planned from the beginning or did it evolve as you wrote it?
Part of the ending was planned. The other part evolved as I was writing.
What do you think readers will love about Cold Woods?
I hope readers will fall in love with these women the way I did. They do the best they can under terrible circumstances. But it's what they do for each other that I think is the biggest takeaway. May we all be so lucky to have friends we can rely on when we need them most.
I loved how you so elegantly built the friendships between the main characters. Did these characters come from personal experience? How did you go about building them?
There's something special about childhood friends. They know you like no one else can ever know you. They sleep over your house, eat meals with your family, go on family vacations with you. They know YOU. They know your family. They get to see what your life is like from the inside. How many times can we say that as we get older? Friends we meet later in life only know us from what we show them, what we tell them. They don't live inside the walls of our house to truly see what is going on behind closed doors. But childhood friends, they see it first-hand. You don't ever have to explain anything to them. They live it with you.
Loosely quoting from a Stephen King novel, The Body, or the movie version, Stand By Me, "Does anyone have friends like you did when you were twelve?" He wrote about boys childhood friendship. I wanted to write about girls childhood friendship. And then of course I threw in a murder because I am writing crime fiction after all.
From there, and based on my personal experience with long lasting friendship, I built my characters around that starting when they were kids. I didn't sugarcoat the friendship. It's not always perfect. But I tried to create characters that are real, and that truly care for and protect each other no matter the cost.
What's next for Karen?
Are you working on a new book? Can you tell my readers a little about it, a blurb, potential release date, etc? Where did you get the idea?
I just turned in book 3 in the series, and I'm waiting for developmental edits. It's titled, Spring Girls, and scheduled for release in June 2020. Instead of Parker's point of view, the reader will get to hear from his partner, Geena Brassard. I don't have an official blurb, but here's a sneak peek into what it's about.
In the last few years, two girls' bodies have turned up in different locations in the lakes of Northampton County. On opening day of fishing season, another girl's body is found. The total is now three girls raped and strangled all occurring in spring. The media dubs the unsub the Spring Strangler, and his victims, the Spring Girls. The cases are personal to Geena. They're the cases that forced her old partner, Albert, into retirement for reasons that aren't all clear.
Janey Montgomery is a single mom. Her son, Christian, is six-years-old. She's struggling with his care. He's not like other children. He's detached and distant, prone to tantrums, and refuses to participate in activities with kids his age. Janey hires a therapist to work with him, but is it helping? Or hurting? There's something about her son that Janey doesn't dare share. How can she help him without exposing her secret?
Get in touch
Karen loves connecting with readers. You can get in touch with her at:
---
Win free books from your
favorite authors
Sign up for my free book club newsletter for chances to win books and read book reviews and exclusive author interviews from authors like Heather Gudenkauf, David Bell, Jane Shemilt, and more.