Jennifer Hillier is the author of six psychological thrillers, including Jar of Hearts, winner of the ITW Thriller Award for Best Hardcover 2019, and finalist for the Anthony and Macavity Awards. Born and raised in the Toronto area, she spent eight years in Seattle, which is where all her books are set. She currently lives in Oakville, Ontario with her husband and son.
---
Little Secrets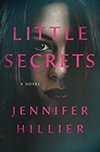 Marin had the perfect life. Married to her college sweetheart, she owns a chain of upscale hair salons, and Derek runs his own company. They're admired in their community and are a loving family. Up until the day Sebastian is taken.
A year later, Marin is a shadow of herself. The FBI search has gone cold. The publicity has faded. She and her husband rarely speak. She hires a P.I. to pick up where the police left off, but instead of finding him, she discovers that Derek is having an affair with a younger woman. But Marin isn't about to lose her only family left. This is a problem Marin can fix. And then she finds out Derek's lover might know what happened to their son. And so might Derek.
Amazon US  |  Amazon UK  |  Barnes & Noble | Indiebound 
My review
A beautiful thriller that's gracefully written with genuine heart and a lot of emotion, I had all the feels for this book. The plot is fast, the writing evocative and beautiful, the themes of loss, grief and betrayal strong and clear.
---
Author's Corner – Interview with Jennifer Hillier
*Note: This interview was conducted in March

Congratulations on winning the 2019 International Thriller Writers Award for Jar of Hearts! How has being an award-winning author changed things for you? Do you still write the same, or is there more/less pressure now?
Thank you so much! It's funny, since the very beginning of my career, I honestly never thought of my books as being the kind that would ever receive award recognition. In my mind, award-nominated novels are on a different level than what I write, with stronger messages about social justice and more profound prose. So it was a true honor to see Jar of Hearts recognized, and I do think it raised visibility for the book.
But at the end of the day, I still write the same – I want to write stories that provide escape and entertainment, and anything else I manage to accomplish above that is a bonus. I don't feel any more or less pressure.
Writing thrillers is pretty intense. What do you like to do after a day of writing intense scenes? How do you disengage from the story and re-engage in the real world?
Right now I'm working on a new thriller, and every night last week, when I should have been unwinding, I broke my own rule. I ended up watching The Trials of Gabriel Fernandez on Netflix, which is a docuseries about an eight-year-old boy who was tortured and killed by his own mother and her fiancé.
It was absolutely brutal to watch, but once I started, I couldn't look away. And while I don't regret it – Gabriel's story is so important, and understanding how the system failed him is so important – it was definitely too much in one week. My books are pretty dark, and writing about fictional horrors during the day while watching a real-life horror story at night is not ideal for me.
So this week, I'm back to my usual way of balancing things out by watching a lot of incredibly bad reality TV. Real Housewives of Orange County, Real Housewives of Beverly Hills, 90-Day Fiancé, Love is Blind, Bachelor in Paradise… bring me all the cheese, all the drama, all the overdone Botox, all the catfishing, I want it all, because that's my escape from the horrors of my fictional world.
I know you're a busy mom as well as an author. What's your favorite me-time treat?
Give me an hour at Sephora. Nothing feels more indulgent than exploring what's new in makeup, skin care, hair products, and scents in my favorite store. I do bring home a lot of samples, but I'm also long-time VIB Rouge (and, uh, I won't tell you how much money you have to spend in a year to earn that status).
If you could recommend any other book(s) that you've read and loved recently, what would it be?
Right now, I'm halfway through Jess Lourey's Unspeakable Things. As authors, we get sent a lot of books to read before they're even published, but Jess's book is one that I chose to read for pure pleasure. It's a coming-of-age suspense set in the 80s in a rural Midwest community, and it's about local boys who go missing. When they finally come back, they're…. changed. For the worse. Every single page is creeping me out, and I absolutely love it, and I can't wait to see how it ends.
What was your favorite childhood book?
As a child, I was a huge fan of Dr. Seuss (although now, as a parent, I can see what a dangerous message the Cat in the Hat actually sends – let a stranger inside the house when your mom's not home? DON'T EVER DO THAT, KIDS!).  I also loved Beverly Clearly's Ramona Quimby books, the Choose Your Own Adventure books, and there was a Canadian author, Gordon Korman, whom I absolutely adored. And of course I read everything by Judy Blume.
If you could invite five people (dead or alive) to a dinner party, who would they be and why?
Stephen King (my favorite writer), Lady Gaga (my favorite singer-songwriter), Russell Wilson (the quarterback of the Seattle Seahawks, my favorite football team), Serena Williams (my favorite athlete), and Ted Bundy (just to mix things up).
Writing Little Secrets
Let's talk about Little Secrets. Can you tell my readers a little about it?
Little Secrets is about a woman who, a year after her four-year-old son is kidnapped in a busy farmer's market, discovers her husband is having an affair with a much younger woman. It's about the disappearance of a child, the unravelling of a marriage, and what lengths a woman will go to when she learns that the two worst things that have happened to her may not be unrelated.
Where did you come up with the idea for Little Secrets?
Truthfully, it was a blend of the most painful thing that's happened to me personally (an affair, which ultimately led to a divorce), combined with the thing I fear the most – losing my child. I always write about what scares me, and I couldn't be more terrified of losing my son.
Describe Little Secrets in three words.
Kidnapping. Affair. Rage.
What actress/actor would you cast to play Marin, Derek and Kenzie?
Oooh, this is always a fun question. For Marin, I picture Salma Hayek. Bradley Cooper could be Derek. For Kenzie, maybe Kimiko Glenn (she was in Orange is the New Black).
What do you think readers will love about Little Secrets?
Marin and Kenzie are interesting, imperfect women, and I believe there's something in each of their stories that every woman can relate to. Marin is in her early 40s, a mother, married, with a successful career, and she's struggling to just keep her head above water in the aftermath of her son's disappearance. Kenzie is in her 20s, a wanna-be Instagram famous grad student, who's solely responsible for her very sick mother but is dead broke, and so she dates rich, married men. Both women make terrible decisions. Both women are flawed. But they're also strong, complicated, and beautiful in their own way.
How do you do research for your books?
I'm a hole filler. I don't do much research before I start writing, but as I go, I'll note in the manuscript the things I need to fact-check or look into more deeply, and I'll fill in those holes at the end. Obviously, Google is my best friend, but in the past I've used an actual homicide textbook to help describe crime scenes and murders (which is not for the faint of heart).
One of the things I love about your writing is the emotion your characters inspire in me. I always root for them and feel very strongly about who they are and the actions they do, even the 'baddies'. How do you build such authentic characters?
Thank you so much! That's a huge compliment. The best I can answer is that every person I know, including – and especially – myself, is flawed. Sometimes, who the villain is in a story is subjective. Think of a significant relationship you once had, that ended. There's probably two sides to that story, and depending on who tells it, you might end up the good guy, or the bad guy. In reality, most of us have been both at some point. I've been hurt, but I also know I've hurt people. It's what makes us human.
What's next for Jennifer?
I know you don't like talking about a book until it's finished, but have you finished a new book? Can you tell my readers a little about it, a blurb, potential release date, etc?
I'm very early into a new novel, so I'm not totally sure yet what it's about (this is what happens when you don't outline first). But I can say it will be another dark thriller starring interesting, imperfect women, and should be out sometime in 2022.
Get In Touch
Jennifer loves connecting with readers. You can get in touch with her at:
---
Want to Share this post? Here's your ready-made tweet: