Daniela Petrova is the author of Her Daughter's Mother. She grew up behind the Iron Curtain in Sofia, Bulgaria. Soon after the fall of Communism, she moved to New York where she worked as a cleaning lady and a nanny while studying English at the YMCA. She is a recipient of an Artist Fellowship in Writing from the Massachusetts Cultural Council. Her short stories, poems and essays have been published in The New York Times, The Washington Post, LA Review of Books and Marie Claire.
---
Her Daughter's Mother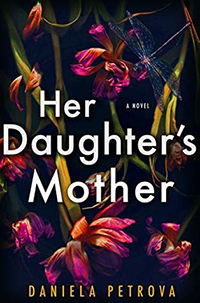 Lana Stone has never considered herself a stalker–until the night she impulsively follows the "anonymous" egg donor who's making motherhood possible for her. Hungry to learn more about Katya, Lana plans to watch her from a distance, only to strike up an unexpected friendship with her. And then Katya goes missing.
Determined to find out what happened to her, Lana digs into Katya's past, unearthing secrets that have the power to change everything. Is Lana just an innocent bystander? Or did she have something to do with Katya's disappearance?
Buy on Amazon US  |  Buy on Amazon UK  |  Buy on Indiebound 
My review
A beautifully told, emotional domestic suspense novel, Her Daughter's Mother was compelling, disturbing and thoroughly enjoyable. It explores themes of motherhood, obsession and the price of betrayal when a beautiful woman unexpectedly disappears after becoming an egg donor to an infertile couple.
---
Author's Corner – interview with Daniela Petrova

Can you tell me something about you that your readers might not know?
I love dark chocolate and consume a bar (or more) every day, especially when I'm working. I drink tea and eat chocolate. That's my routine. I've been trying to cut down on the chocolate lately but I find it really hard to write without it.
Did you always want to be an author?
I grew up in a poor, working class family in Bulgaria during the Communist regime and started writing when I was still a child, first poems and then later as a teenager, I tried my hand at short stories. I can't pinpoint a specific moment when I realized I wanted to be an author. It's something that's been always with me—a forbidden dream that I had to squash down because it wasn't a practical pursuit for someone with my background.
As the first in my family to graduate from high school, I was expected to have a profession, to do something with my education so that I wouldn't end up working on the conveyor line like my parents and grandparents. Coming to America seemed to only reduce my chances of becoming a writer because I barely spoke English when I landed in New York City 24 years ago.
You grew up in Bulgaria, and I love that this rich cultural background factored a lot in your debut. What made you decide to do this? Will it be a theme you continue in future novels?
One of my writing teachers, Susan Shapiro, loves to say, "Write the stories only you can tell." I find it really empowering. Having two characters with Bulgarian origins adds an international flavour to Her Daughter's Mother but, more importantly, it adds a layer of complexity to a story about conceiving a child that won't have any of the mother's DNA.
As an immigrant, you feel the importance of your heritage so much more and you want to pass it on to your children. Which is why Lana wants a Bulgarian egg donor. The protagonist in my second novel is a Bulgarian immigrant. I imagine I'll continue to write about characters who share my background and/or heritage in order to give voice to immigrants and express some of my feelings and draw on some of my unique experiences.
What are some of the jobs you had before becoming an author? How have they helped you in your writing career now?
I studied architecture at university in Sofia but dropped out in my third year to get married and move to America. Since then, I've held a series of odd jobs, starting out as a cleaning lady, a nanny, a library assistant, a consultant for the United Nations and the World Bank, a mental health counsellor, and even an assistant to a Private Investigator.
Each of these jobs taught me different skills but also, I learned what it's like to work in an office surrounded by other people, to answer to a boss, to be a boss, none of which I would have known if I had started to write straight away without any work experience.
Can you tell us one or two things you love doing or consider yourself really great at?
I love reading but I guess that goes hand-in-hand with writing. Also, any other forms of storytelling—movies, TV shows, theater. Outside of that, I love travelling and the outdoors. As a child, I used to go camping with my family in the mountains of Bulgaria or hiking with friends. I took my first solo trip when I was 16 to the Ukraine and Russia. Since then, I've been all over the world but the travel bug hasn't left me yet.
I love experiencing new places and learning about new cultures. Because I love the outdoors, my favourite trips are adventure trips, like hiking in Chile and bicycling in Croatia. Although, lately I've been gravitating toward beach vacations where I can lounge around all day and read.
Stranded on a tropical island, what would be the top three books you'd have with you?
Pride and Prejudice by Jane Austen because I find something new to love about it every time I read it; War and Peace by Tolstoy because there are so many wonderful subplots to keep me invested—and lost—in the novel's world for a long time; and Martin Eden by Jack London because it inspires and motivates me.
If you could recommend any other book(s) that you've read and loved recently, what would it be?
There are so many good books these days, it's hard to pick. I love anything by Tana French, Lisa Jewell and Megan Abbot. Most recently, I fell in love with My Sister the Serial Killer by Oyinkan Braithwaite. Some of the debut novels that I read this year and really enjoyed are: The Lost Night by Andrea Bartz and The Last Book Party by Karen Dukess. I can't wait to read The Night Olivia Fell. I also just finished the advanced reader's copy of Erica Wright's latest novel, Famous in Cedarville, and loved it.
Writing Her Daughter's Mother
Let's talk about Her Daughter's Mother. Can you tell my readers a little about it, how you came up with the idea and what inspired you to write it?
I went through infertility years ago and, while it didn't work out for me, I thought that having a child with the help of a donor could create an interesting parental triangle and might be a good premise for a mystery. I wondered: What if a woman who is pregnant through a donor egg encounters her anonymous egg donor? And what if she starts stalking her and then the young woman goes missing and the pregnant woman finds herself a prime suspect in the investigation?
Describe Her Daughter's Mother in three words.
Lies. Betrayals. Redemption.
What scene did you enjoy writing most?
The scene(s) when Lana meets Katya. The two are so different and yet they have this amazing connection. Partly because of their Bulgarian origins but also because of the baby growing in Lana's womb. It's a unique relationship—one of them is carrying the baby conceived with the egg of the other—and I was fascinated by how they would act around each other.
What actress would you cast to play Lana and Katya?
Natalie Portman would be perfect as Lana and Hailee Steinfeld would be amazing as Katya.
Was the ending planned from the beginning or did it evolve as you wrote it?
I had no idea how the story would end. In fact, I played around with different endings, and by the time the book went on submission, I had three different versions. I finally landed on this one after discussing it with my editor.
What do you think readers will love about Her Daughter's Mother?
Based on readers' feedback so far, people seem to like the pace, the emotional richness of the story, the dilemmas the characters face and the twists and turns that make it a page-turner. People have remarked on how much they like the three voices. It's interesting that some love Katya the most while others prefer Lana and a third, smaller group, sympathize most with Tyler.
There are strong themes of motherhood, obsession, and the price of betrayal in this book. Was that intentional? What attracted you to these themes in the first place?
I didn't set out to write a book about obsession and betrayal; I was envisioning a more straightforward mystery. But as I started writing and got to know the characters, the themes bubbled up to the surface and I became less interested with the mystery and more invested in the relationships between the characters and the dichotomies between their needs and desires.
I really loved Lana! I found her smart and courageous in the face of some emotionally very difficult things. How did you build her character to match this story so well?
Thank you! I worked on the story and characters simultaneously. I started out with the premise and then began to build the characters little by little before letting them lead the way and take the story to its natural conclusion. I thought that a novel with this premise needed a strong woman who knows what she wants and won't easily give up. A woman who is cautious and driven to succeed but also compassionate and willing to risk her career to keep her unborn child safe and find out what happened to her egg donor. A woman who is smart and introspective but is blinded by her insecurities and gets lost in the pursuit of her goals.
What was the most surprising thing you learned while writing it?
I was most surprised by Katya's character. I had some idea of what she would be like but once I started writing her chapters, her voice was so powerful; she took over her storyline. I just followed her, and she took me in an unexpected direction.
What's next for Daniela?
Are you working on a new book? Can you tell my readers a little about it, a blurb, potential release date, etc? Where did you get the idea?
I'm working on my second novel, also psychological suspense, which takes place in New York City in the 90s and is based on my experience as an immigrant. I'm not sure how much more I can reveal at this point but I'm hoping that the second one won't take me as long to write as the first one.
Get in touch
Daniela loves connecting with readers. You can get in touch with her at:
---
Win free books from your
favorite authors
Sign up for my free book club newsletter for chances to win books and read book reviews and exclusive author interviews from authors like Heather Gudenkauf, David Bell, Jane Shemilt, and more.