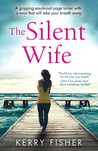 The Silent Wife by Kerry Fisher
My rating: 4 of 5 stars
The Silent Wife is a family saga/drama that tells the story of two women who are the wives of two Italian brothers, exploring the difficulties of second marriages.
An intricate, character-driven story about two very different women, exploring themes of domestic abuse and self-esteem. The characters are very well drawn and life-like, each adeptly addressing the darker sides of a marriage, reminding you that the perfect couple isn't always as perfect as they seem.