Samantha Downing was born in the Bay Area and now lives in the Big Easy. She wrote a dozen books before selling My Lovely Wife. Samantha has a nearly photographic memory and just thinking about tomatoes makes her gag. Her goal is to tell stories that make people walk into walls. My Lovely Wife is her first novel.
---
My Lovely Wife

Dexter meets Mr. and Mrs. Smith in this wildly compulsive debut thriller about a couple whose fifteen-year marriage has finally gotten too interesting…
Our love story is simple. I met a gorgeous woman. We fell in love. We had kids. We moved to the suburbs. We told each other our biggest dreams, and our darkest secrets. And then we got bored.
We look like a normal couple. We're your neighbors, the parents of your kid's friend, the acquaintances you keep meaning to get dinner with.
We all have secrets to keeping a marriage alive.
Ours just happens to be getting away with murder.
Buy on Amazon  |  Buy on Amazon UK  |  Buy on Indiebound
My review
Edgy, mesmerizing, and seriously dark and twisted, this is one of my favorite books of the year. The prose is crisp and sharp, the pacing consistently quick, the characters unique and exceptional. It's very like Dexter for the suburban parent…
---
Author's Corner – interview with Samantha Downing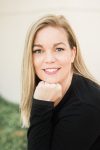 Can you tell me a little about the quirky, philosophical you that your readers might not know?
I can tell you what I'm not…I'm not the life of the party, the one who is the center of attraction. I'm the one in the corner taking notes. Fair warning, I also have a ridiculous memory. It scares me sometimes. I wouldn't say it's absolutely photographic but it's close. Yes, I will repeat back exactly what you said if I have to.
Other random facts: About half of what I say is sarcastic, every summer I watch Big Brother (don't @ me) and just thinking about tomatoes makes me gag.
Did you always want to be an author? How has being an author changed things for you? Do you still write the same, or is there more/less pressure now?
I've always loved writing but it's always sounded impossible to make a living being a writer. I still have my day job, even though I'm now about to be published.
I do feel like there is more pressure now, but that's to be expected. Before it was a hobby, I could do it or not do it. Now it is a job, one I still love even if it feels different.
What are some of the jobs you had before becoming an author? How have they helped you in your writing career now?
Back in college, I was a receptionist at a large hair salon. That was a great learning experience in terms of the working world. I learned that even in a workplace, there are cliques, there are cool kids, and there are very not-cool kids. It was a great introduction into the working world.
One of my other jobs was at an antique store, and we had antique jewelry. We sold a lot of engagement rings and jewelry to couples. If you ever want to know about the dynamic of a couple, watch them make a large purchase. You can figure out who is really in charge pretty quick!
Stranded on a tropical island, what would be the top three books you'd have with you?
Three! Okay, I'll try…
Rebecca by Daphne du Maurier
A Confederacy of Dunces by John Kennedy O'Toole
SAS Survival Handbook: The Ultimate Guide to Surviving Anywhere by John Wiseman
Writing My Lovely Wife
Let's talk about My Lovely Wife. Where did the idea came from and what inspired you to write it?
My Lovely Wife is about a couple who have been married for 15 years, they have two kids, and they try to spice up their marriage with an unusual (and disturbing) extracurricular activity.
The idea first came from documentary about a woman who was held captive by a married couple. It grew into this suburban power couple—the type you see all the time, they're just like your neighbors (almost).
This is your debut – congratulations! I read that you wrote 12 novels in 20 years and never submitted them. What made you decide to submit and publish this one?
Actually, I didn't submit this one – a friend did! Rebecca Vonier, who is in my writing group, sent the book to a friend of hers, and he sent the book to an old friend in New York who is now a literary agent. That agent referred me to Barbara Poelle, my superstar agent who sold the book in 48 hours.
What scene did you enjoy writing most?
One of the first scenes when the whole family has breakfast together. That's really the introduction to their home life, and their kids, and it was fun to show everyone's personality.
What actress/actor would you cast to play Millicent and Tobias?
Oh my. This is a tough one. I'll have to name a few.
Millicent: Nicole Kidman, Jessica Chastain, Amy Adams, Rachel McAdams
Tobias: John Cusack, Jeremy Renner, Clive Owen, Jason Bateman
Was the ending planned from the beginning or did it evolve as you wrote it?
I don't plan anything when I write, not even the ending. I figure it all out as I go.
What do you think readers will love about My Lovely Wife?
My hope is that they love it because it's different, it's uncomfortable, and it's funny. There's a lot of dark humour in this book!
What was the most surprising thing you learned while writing My Lovely Wife?
I would say how much I enjoyed writing about their home life and their marriage. Despite the creepy cover of the book, there is little to no gore in it, nor any graphic violence. To me, implying it and letting the reader imagine it is much more horrifying.
What's next for Samantha?
Are you working on a new book? Can you tell my readers a little about it, a blurb, potential release date, etc? Where did you get the idea?
I'm working on another thriller but that's all I can say right now. I'm sworn to secrecy!
Get in touch
Samantha loves connecting with readers. You can get in touch with her at:
---
Win free books from your
favorite authors
Sign up for my free book club newsletter for chances to win books and read book reviews and exclusive author interviews from authors like Heather Gudenkauf, David Bell, Jane Shemilt, and more.