Samantha Downing is the author of the bestselling and Edgar Award-nominated novel My Lovely Wife. Amazon Studios and Nicole Kidman's Blossom Films have partnered to produce a feature film based on the novel. Her second book, He Started It, will be released on July 21, 2020.
---
He Started It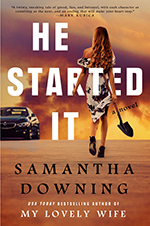 Beth, Portia, and Eddie Morgan haven't all been together in years. And for very good reasons. But when their wealthy grandfather dies and leaves a cryptic final message in his wake, the siblings and their respective partners must come together for a cross-country road trip to fulfill his final wish and—more importantly—secure their inheritance. But time with your family can be tough. It is for everyone.
It's even harder when you're all keeping secrets, and especially when at least one of you is a killer and there's a body in the trunk. Just to name a few reasons. But money is a powerful motivator. It is for everyone.
Amazon US  |  Amazon UK  |  Barnes & Noble | Indiebound | Bookshop.org
My review
A wicked-fun read with razor-sharp wit and a killer twist, He Started It is compelling, captivating, and deliciously dark. Samantha Downing writes with a wry, sparse elegance that steadily entangles you until you're utterly addicted.
---
Author's Corner – Interview with Samantha Downing
Thanks so much for being on Author's Corner again and congrats on the success of My Lovely Wife! Where do you get your writing ideas from? Do you keep notes throughout the day, or just start at the beginning and go?
Thank you so much for having me! I really appreciate all you do for authors.
My ideas can come from anywhere – something I see in the news or out in the world. One time I saw a woman walking down the street and she became a character in a book I was writing.
I don't plot my books at all, I just start writing and figure it out as I go. That means I'm constantly revising, even while writing the first draft. Usually I write in the morning and think about it throughout the day. I jot down any ideas I have for things to change or add – I have post-it notes all over my apartment. It's pretty weird. I might have a note that says "Hide Body" or something on the refrigerator to remind me to do that!
I hear there's to be a movie based on My Lovely Wife. I'm so excited! Can you tell us a little about it, when it might come out, who's starring, etc?
Unfortunately I don't have any further news yet! The announcement was made right before all the virus shutdowns here, so I'm not sure if anything more has been decided. It's very exciting though! I hope it does get made because I would love to see it.
What is the first thing — ever — that you remember writing?
I think I was in the third grade when I wrote my first story. It was about a lost ring—a golden ring—and a little girl searching for it.
Writing thrillers and mysteries is pretty intense. What do you like to do after a day of writing intense scenes? What's your favorite me-time treat?
I'd love to say exercise, but that's not always true! I think taking a nap is the best thing ever.
What was your favorite childhood book?
I loved Beverly Cleary and the Ramona books. Ramona and Beezus was my favorite!
What would you do if you weren't a writer?
I've been writing a long time and I've always had a job while doing it. But I guess my "ideal" job would be working with animals. My brother has a dog-walking and dog-sitting business and I think it's the best thing ever.
If you could recommend any other book(s) that you've read and loved recently, what would it be?
For books that are out right now, I loved Stranger in the Lake by Kimberly Belle. Next week, His & Hers by Alice Feeney is coming out and I loved that as well.
If you could invite five people (dead or alive) to a dinner party, who would they be and why?
Tough question but I'll give it a try!
Cleopatra, Winston Churchill, Meghan Markle, Elon Musk, and Oscar Wilde.
Honestly, it would be so entertaining I could just sit back and watch.
Writing He Started It
Let's talk about your new book, He Started It. Can you tell my readers a little about it?
He Started It is about three siblings, and two spouses, who go on a road trip to get their grandfather's inheritance. Along the way, they have to deal with a lot of family secrets, grudges, and scores to settle.
How did you come up with the idea?
The original idea came from a friend of mine, who went on a family road trip and a lot of things went wrong. Nothing as dramatic as what's in the book, of course, but it made me think a family road trip was a great idea for a thriller.
Describe He Started It in three words.
Wicked, sneaky, and fun
What do you think readers will love about He Started It?
I hope they love the ride, literally and figuratively. Every book is a journey, this one is an actual journey through the United States, where every character has their own agenda.
Ok, that ending, though! Without giving it away, can you tell us if you knew how He Started It was going to end before you wrote it? Or was it totally written in the moment?
I never know the end when I start writing. It comes to me as the book evolves, so I didn't know this would be the ending until about two-thirds of the way through the book. I know it is a polarizing ending, and I'm okay with that. The status quo has never been my thing!
He Started It is just oozing with atmosphere and characters you love to hate. How do you come up with these people? Are they ever based on anybody real?
My goal is always to create characters that are compelling. Likeable or unlikeable is not part of the equation. It's not something I think about at all.
No one is completely based on a real person, but parts of them are. The brother, Eddie, is quite controlling and I certainly know men who are like that. And Portia, she went to Tulane University in New Orleans and I have known young women like her. So really, they are half-invented and half-based on people I know or have met.
What's next for Samantha Downing?
Are you working on a new book? Can you tell my readers a little about it, a blurb, potential release date, etc? Where did you get the idea?
I am currently in edits for my third book but all I can say is that it's another thriller!
Get In Touch
Samantha loves connecting with readers. You can get in touch with her at:
---
Want to Share this post? Here's your ready-made tweet: