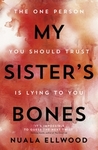 My Sister's Bones by Nuala Ellwood
My rating: 5 of 5 stars
One of the best books I've read all year! My Sister's Bones follows Kate, a journalist who is forced to return home when her mother dies. Staying in her mother's house, Kate is woken by a terrifying scream. The only problem is, she doesn't know if it was real, or one of the voices in her head due to her PTSD from working as a reporter in Syria.
The story is sensitively and eloquently told, with well-developed, believable characters. The writing was beautiful, heart-wrenching and, at times, harrowing. I found it especially intriguing, as I wasn't sure if I could trust the narrator.
Moody and melancholic, this was a stunning literary thriller from a debut author that I look forward to reading more from. I couldn't stop thinking about it for days!