Available now on Amazon or on Avalon Travel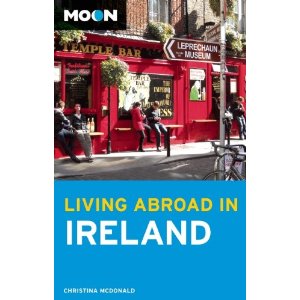 Christina McDonald knows what it takes to make the move to Ireland, and she shares her seasoned advice on transplanting to this vibrant country in Moon Living Abroad in Ireland. Whether it's a bungalow in verdant County Kilkenny, a flat in lively Dublin, or a rustic cottage in the quiet Lakelands, there's a place that matches your budget, needs, and dreams—and McDonald uses her firsthand knowledge of Ireland to ensure that you have all the tools you need to obtain visas, arrange your finances, find employment, and choose schools for your kids.
Packed with essential information and must-have details on setting up daily life, plus extensive color and black and white photos, illustrations, and maps, Moon Living Abroad inIreland will help you find your bearings as you settle into your new home and life abroad.
About the author
A native of Seattle, Washington, Christina McDonald has traveled throughout the Pacific Northwest, the West Coast, and Europe. Her first memory of Ireland is seeing a photo of the Dingle Peninsula when she was a child. Having grown up in Seattle, she was sure there was no place greener, but that picture proved her wrong. Twenty-five years later, she went to Dingle and was seduced by the intense, emerald green of the countryside, the colorful terraced houses, the sparkling blue of the sea, and the friendly, charismatic people. A year after returning home to America, she decided to make the move to Ireland to pursue a master's degree in journalism at the National University of Ireland, Galway. While she was there, she met her husband, Richard, in a Taekwondo class.
After receiving her degree, Christina married Richard and stayed in Ireland. Since then, she has enjoyed writing for print, radio, and online media in Ireland, England, and the United States, including the Sunday Times, Dublin, the Connacht Tribune, Galway, the Galway Independent, the Seattle Post Intelligencer, Colures Magazine, Expedia.com, and USAToday.com.