Mike Chen is a lifelong writer, from crafting fan fiction as a child to somehow getting paid for words as an adult. He has contributed to major geek culture websites (The Mary Sue, The Portalist), covered the NHL for mainstream media outlets, and ghostwritten corporate articles appearing in Forbes, Buzzfeed, Enterpreneur, and more. Mike lives in the San Francisco Bay Area and can be found playing video games and watching Doctor Who with his wife, daughter, and rescue animals.
---
A Beginning At The End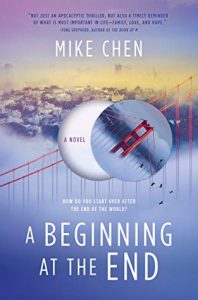 Six years after a global pandemic wiped out most of the planet's population, the survivors are rebuilding the country, split between self-governing cities, hippie communes and wasteland gangs.
Four survivors are brought together by circumstance, and their lives begin to twine together. But when reports of another outbreak throw the fragile society into panic, the friends are forced to finally face everything that came before—and everything they still stand to lose.
Pre Order and Win
Pre order a copy of A Beginning At The End now and you'll get a a short story absolutely free! PLUS you'll be entered to win one of 10 books in a final draw. Submit your pre order receipt to enter.
---
Author's Corner – interview with Mike Chen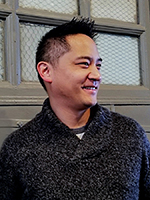 Can you tell me something about you that your readers might not know?
A lot of what people see on my Twitter feed is close to who I've always been – very into sci-fi, loves dogs, swears a lot (don't worry, I won't here). But something a lot of people don't know is that rather than write fiction in my 20s, I spent most of it in the San Francisco music scene. I played in bands. DJ'd an indie rock dance night (if that phrase actually makes sense to you, high five), and went to live shows in small clubs pretty much every week. My first manuscript was an attempt to write a New Adult story set in this scene and IT IS TERRIBLE and will never be seen by anyone.
I'm still a music hipster and try to stay up on the latest underground bands, so if you want to chat indie rock on Twitter, I am always game. In fact, most of the characters in A Beginning At The End are named after my favorite 90s cult musicians from bands like Throwing Muses, The Pixies, and Belly.
What are some of the jobs you had before becoming an author? How have they helped you in your writing career now?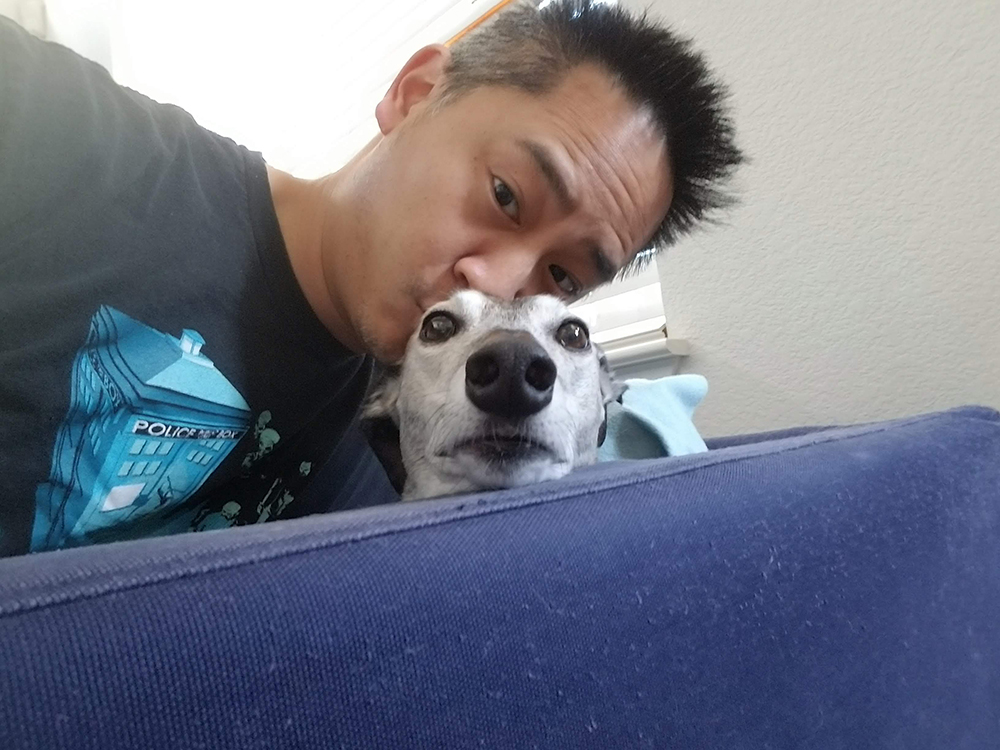 I have an engineering background, but I've been writing as a career since college. I did a lot of freelance writing for the nascent online sports media community in the early 2000s and grew with it, which means I have a whole previous writer life as a credentialed NHL reporter.
As a day job, I've spent years as a technical writer and copywriter. I find all of those help immensely with writing fiction, as it really powers self-editing, word choice, and some of the more technical aspects of craft.
If you could recommend any other book(s) that you've read and loved recently, what would it be?
There are too many! For people who like sci-fi/fantasy elements built into character stories, I recommend The Book of M by Peng Shepherd, Famous Men Who Never Lived by K Chess, and The Unlikely Escape of Uriah Heep by HG Parry.
If the idea of adult Harry Potter meets The Sopranos sounds enticing, one of my favorite books ever is An Unkindness of Magicians by Kat Howard. And similarly, Jade City / Jade War by Fonda Lee are like The Godfather rebuilt with Asian kung-fu fantasy elements.
What was your favorite childhood book?
I read a LOT as a kid, and in all different genres. One thing that always sticks out is A Royal Pain by Ellen Conford. It was the first book that really made me understand the power of voice in prose and has really snappy dialogue. The book's fictional country of Saxony Coburn is actually an easter egg in my debut Here And Now And Then.
What book had the greatest impact on you?
As a reader, probably the first four books in Anne Rice's Vampire Chronicles. I was obsessed with them in high school and college and I loved the idea of bringing a really personal narrative to fantastical genre situations.
As a writer, when I read High Fidelity by Nick Hornby, that was the first time I thought I really wanted to give this a try. Hornby's About A Boy is actually a book I go back to when I need inspiration or a lesson refresher. In fact, A Beginning At The End was originally pitched as About A Boy meets Station Eleven by Emily St. John Mandel.
What's your favorite ice cream?
Rainbow sherbet. My foodie wife gives me endless grief about this.
If you were entering an packed auditorium of readers waiting to see you, what music would you enter to?
Oof, there are so many to pick from. It depends on mood. As a DJ, I was always conscious of how songs started and ended and how that would affect the audience. You need the right vibe to start things up. So I would say probably something like Velouria by The Pixies or Rebel Rebel by David Bowie.
If you could invite five people (dead or alive) to a dinner party, who would they be and why?
David Bowie, Patrick Stewart, Carrie Fisher, Tanya Donelly, and Barack Obama.
Deborah Harkness – she's one of five people in the world who teaches alchemy, and she knows great wine. A stellar combination.
Writing A Beginning At The End
Let's talk about your new book. Can you tell my readers a little about it?
Most post-apocalyptic stories are very grim, dark adventures where people are killing each other for resources (food, shelter, water, etc.) I like to believe that humanity's a little better than that, and I think the most interesting part of a post-apocalyptic narrative is when people settle into a new society but suddenly have to unpack all of the trauma they've endured.
A Beginning At The End examines this through four characters whose lives intertwine in post-apocalyptic San Francisco: Krista, a disgruntled wedding planner; Moira, a former pop star hiding from her abusive stage dad; Rob, a single dad mourning his dead wife; and Sunny, his young daughter.
Where did you come up with the idea for A Beginning At The End?
The idea sparked from a few different things. The initial idea about real grounded life after the apocalypse came from a scene in the second season of The Walking Dead. In the scene, Lori is still trying to make her son Carl do homework. I remember some people laughing about "oh, who need to do math when there are zombies?" But I found it to be a very human moment, a telling moment about how these characters are looking for normalcy in the fantastical.
That is what got me thinking, and then from there it was loving the pseudo-parent/child bond of About A Boy. From there, I simply thought "what if I did that…but in the apocalypse?"
Describe A Beginning At The End in three words.
Apocalypse. With. Hope.
What actresses would you cast to play Krista, Moira, Rob and Sunny?
I have thought this out and you can actually see the aesthetic I posted on Twitter: https://twitter.com/mikechenwriter/status/1152287100902887424
I tend to model characters after actors and actresses in early drafting because it gives me a much better sense of seeing their physicality and hearing their cadences. I am a huge fan of Legends of Tomorrow, which to me is the best and funniest and most charming show on TV (after the extremely mixed first season). So two of my leads are from there: Krista is Caity Lotz and Moira is Tala Ashe. As a mixed-race character (Japanese and caucasian), Rob doesn't have a lot of real actors to draw from, but I'd put it as a frumpier version of Henry Golding.
Was the ending planned from the beginning or did it evolve as you wrote it? Are you a plotter or a pantser?
I tend to have a really strong idea, even sometimes a definitive image or story beat to end most of my stories. It's usually a culmination of the themes I want to use before I have full story beats. From there, I tend to be a loose plotter. I work backwards to add in the key story beats using the Save the Cat model. Then I try to draft by sections.
This particular book was a little different because I wrote it before I wrote my debut Here and Now and Then. The core story was the same but the entire structure was different – Krista and Rob were the only points of view, there were no flashbacks or news clips, the prose was less polished. My agent had me do a massive overhaul. I'd say 75-80% of the actual words are new or moved around despite much of the story arc remaining.
What do you think readers will love about A Beginning At The End?
From early reviews and feedback, it really works for readers who want strong character stories but also enjoy a fantastical setting outside of our contemporary world. This combination made a lot of people happy in Here and Now and Then; I think this is the ideal follow-up in that these themes still exist but the setting is different, the sci-fi trope is different, and the story is more complex.
I love this sort of apocalyptic, futuristic book, as well as themes of family, love and hope. What draws you to writing this sort of story?
The original draft of this was written in 2011 and it stemmed from me wanting to try writing the family/relationship stories I love but putting them in the sci-fi settings I love. Ten years ago, there was no market for this. I am fortunate that things shifted from about 2017 and now there's a space in between literary fiction and sci-fi.
What's next for Mike?
Are you working on a new book? Can you tell my readers a little about it, a blurb, potential release date, etc? Where did you get the idea?
I am! It's called We Could Be Heroes and it's about a superhero and a supervillain who accidentally meet up in an anonymous support group, then decide to work together to discover the origins of their gifts. It was based on a short story I published in 2016 called Anonymous, which was itself inspired by the Marvel Netflix series like Jessica Jones and Daredevil. This will come out in early 2021, again from Mira/HarperCollins.
Get In Touch
Mike loves connecting with readers. You can get in touch with him at:
---
Want to Share this post? Here's your ready-made tweet:
---