Megan Miranda is the New York Times bestselling author of All The Missing Girls and The Perfect Strangers. She has also written several books for young adults, including Come Find Me, The Safest Lies, and Fragments of the Lost. She grew up in New Jersey, graduated from MIT, and lives in North Carolina with her husband and two children.
---
The Last House Guest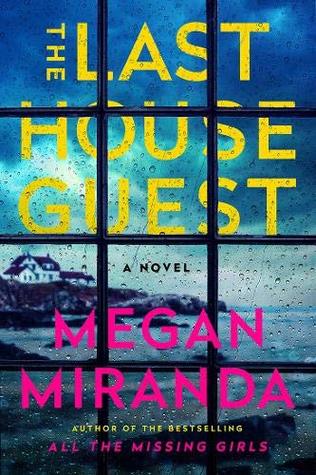 A suspenseful summer thriller about an idyllic town in Maine dealing with the suspicious death of one of their own—and her best "summer" friend, who is trying to uncover the truth…before fingers point her way. The Last House Guest follows Avery, who's best friend killed herself the summer before. But someone knows more than they're telling.
And as buried secrets are revealed, Avery becomes convinced it wasn't a suicide. It was murder.
Buy on Amazon US  |  Buy on Amazon UK  |  Buy on Indiebound
My review
Cleverly told with a plot that flips between summer 2017 and summer 2018, The Last House Guest is the perfect summer thriller with an ending you won't see coming.
---
Author's Corner – interview with Megan Miranda

Can you tell me something quirky about you that your readers might not know?
An odd writing quirk that started during my first book, and is still going strong at book number 10, is that I eat a questionable amount of Pop-Tarts while I'm editing (but only when I'm editing). It's like some Pavlovian response now whenever I get an edit letter. Open up the document, stick a few Pop-Tarts in the toaster, and dive in.
Can you tell us one interesting thing about yourself?
I love reading thrillers and mysteries, but I can't watch scary movies or TV shows. The exception to this is if it's based on a book and I know what's coming.
I recently watched a new television show everyone was raving about, saw the first episode, and then didn't sleep for a week. Maybe I'll try again after I hear every single spoiler for it.
Did you always want to be an author?
I have always loved writing, but I also loved science, and since I didn't know anyone who was a writer when I was growing up, I decided to pursue science as my career—thinking I could continue to write on the side. Though I have always been a huge reader, the truth is I gave up writing for a while. But it was always my passion, the thing I wanted to do one day. And it took a little longer for me to finally ask myself: so why aren't you doing it?
How has being a bestselling author changed things for you? Do you still write the same, or is there more/less pressure now?
For the most part, I think my process is more or less the same. Then again, each book is different and has its own set of challenges. I can never really anticipate which ideas will come easily, and which I'll have to chip away at for a while.
As for pressure, one thing that consistently helps is to always be working on the next project. I try to focus on what I can control—the plot, the characters, the words on the page—making each book the best it can be.
What are some of the jobs you had before becoming an author? How have they helped you in your writing career now?
After college, I worked in biotech for several years. I spent my days at a lab bench most of the time, in a lab coat and goggles. I do think sometimes I write like I approached experiments—you give something a shot, step back, see what needs to be altered, and try again.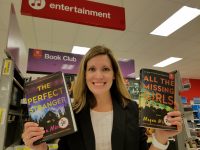 After moving from Boston to North Carolina, I became a high school science teacher. Two years later, I had my first child. It was when I was home with my two little ones that I started to take a real shot at writing for publication. The first book that I published combined all my previous careers: It was a young adult novel, and it had a weird what if science angle. So I think everything you do can inspire and inform what you write.
Stranded on a tropical island, what would be the top three books you'd have with you?
The Worst Case Scenario Survival Handbook series, which my parents gave me as a joke one Christmas (because I am always, always imagining the worst case scenarios), but which I read very seriously instead. I don't have many survival skills, so I think this is probably essential.
If you could recommend any other book(s) that you've read and loved recently, what would it be?
I've read so many fantastic books this year! The Night Before by Wendy Walker and The Winter Sister by Megan Collins are two recent reads that pulled me in and really stuck with me after. Highly recommend both!
Who's your favourite character you've ever written and why?
Ah, I become attached to every main character, so this answer changes frequently! Right now, after spending several years in her head, I'd have to say Avery from The Last House Guest. Her resiliency is something I really admire.
I love that in your books you overlap different crimes, characters and plots so beautifully and naturally. Do you plot these different strands, or do they evolve as you write? Are you a plotter or a pantser?
Thank you! They very much evolve as I write. I start with a character and a premise, and the layers develop as I go. I have to write my way into a story to get to know my characters better, so the characters and the plot develop side by side. I do try to step back before I get too far in to make sure I can see the major turning points, even if I don't have a solid outline. But for the most part, I like to be surprised.
Writing The Last House Guest
Let's talk about your new book. Can you tell my readers a little about it, how you came up with the idea and what inspired you to write it?
When I started The Last House Guest, I knew I wanted to set it in a town where there would be this contrast of insiders (the characters who live in the town year-round) and outsiders (those who visit each summer). Avery and Sadie grew from this idea. But as I worked through earlier drafts, I realized that Avery embodied both sides of that equation—she is someone who grew up as an insider, but now feels like an outsider to her own town.
The friendship between Avery and Sadie—and all that happened because of it—became the heart of the story. Which then gave rise to the structure: At the start of the story, Avery can't seem to accept or move past Sadie's death a year earlier. And she keeps circling back to that pivotal night with each new discovery, looking for the things she might've missed the first time around.
Describe The Last House Guest in three words.
Twisted vacation town.
What scene did you enjoy writing most?
For several reasons, the very, very last one.
What actress would you cast to play Sadie and Avery?
I am terrible at answering this question, because the characters all seem like very specific people in my head. But I always enjoy hearing who readers envision!
Was the ending planned from the beginning or did it evolve as you wrote it?
The ending definitely evolved as I wrote. Most things in the story changed significantly over the course of many drafts. I try to know the main turning points before I get too far in, but I leave myself a lot of room to figure things out between each of those moments. And in this case, even the ending changed when I finally arrived there.
What do you think readers will love about The Last House Guest?
It's a many-layered mystery, but also the story of friendships and relationships that may be different than they first appear. I really enjoyed exploring both elements—the plot and the characters—and hope readers do too.
What was the most surprising thing you learned while writing it?
Since I don't do much up-front plotting, I will say that a lot of things surprised me! But one specific thing I learned while writing was during a research trip to Maine with my family. We visited a place I hadn't been since I was a teen, and hiked what had once been my very favorite hike, with ladders and rails and stunning drop-off views. My best friend and I used to skip along the trail, laughing, while my parents followed behind. But this time, I had my two children with me and it was ABSOLUTELY TERRIFYING. I kept saying "Make a human chain!" And they of course rolled their eyes and ignored me. Anyway, it made me think a lot about perspective, and experience, and why didn't my parents warn me this would be terrifying?
What's next for Megan?
Are you working on a new book? Can you tell my readers a little about it, a blurb, potential release date, etc? Where did you get the idea?
I'm currently working on my next adult suspense. It's a little too early to say much, as things sometimes shift dramatically from early drafts to finished product. But I will say it keeps in line with some of the themes I'm consistently drawn to: how the past defines us, and how well we can ever know the mysteries inside other people, including ourselves.
Get in touch
Megan loves connecting with readers. You can get in touch with her at:
---
Win free books from your
favorite authors
Sign up for my free book club newsletter for chances to win books and read book reviews and exclusive author interviews from authors like Heather Gudenkauf, David Bell, Jane Shemilt, and more.