Mary Kubica is the New York Times and USA Today bestselling author of four novels, including The Good Girl, Pretty Baby, Don't You Cry and Every Last Breath. Before becoming an author she was a high school history teacher. She lives outside of Chicago with her husband and two children, where she enjoys photography, gardening and caring for the animals at a local shelter.
---
When the Lights Go Out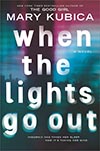 After Jessie's mother dies from cancer she enrols in college in an attempt to start rebuilding her life. But when the college tells her that her social security number has raised a red flag, she discovers something that causes her to doubt everything she's ever known.
Unable to sleep since her mother's death, Jessie feels like she's going insane. As her insomnia worsens, Jesse begins to question what's real and what's only imagined.
Has her whole life been a lie?
My review
An intricately plotted thriller with likeable characters warring with their individual obsessions and their interior needs, this was an easy book to read that I finished in just one day because I couldn't put it down…
---
Author's Corner – interview with Mary Kubica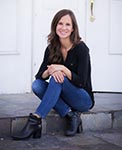 Can you tell me a little about the quirky, philosophical you that your readers might not know?
I'm sort of a what-you-see-is-what-you-get type of person. A few things people might not know about me are that I've been a vegetarian for over fifteen years, I'm passionate about animal welfare, and have a bit of an addiction to cats. Between my own and my foster cats, we have five living with us at the current time.
I was a high school history teacher before publishing my first book, and if I wasn't writing, I'd absolutely be doing that. I loved to teach.
Writing quirks? I'm up at 5am to write – 4am when I'm on deadline and worried I won't make it in time. And I'm almost always in bed by 9pm!
How has being a bestselling author changed things for you? Do you still write the same, or is there more/less pressure now?
There's more pressure! It's easy to assume that writing is something that gets easier with time, but each novel is essentially it's own thing. Some are easier than others and some are harder; there's no rhyme or reason to this that I've yet to figure out. But what I can say is that after a few successful books, there is certainly the expectation to bring something bigger and better with each new book I write. It's a challenge, of course, but one I feel up to!
You began your career in teaching – what started you on the path to being an author? Did you always know you wanted to write fiction rather than report news one day?
I've loved to write since I was a little girl, well before knowing I wanted to be a teacher. But writing was a hobby, one that – as a young girl and well into my young adult years – I was too self-conscious to share with others.
It wasn't until I neared my thirties that I found the confidence to do that. I'd taken some time off teaching to start my family and in those years wrote my debut novel, The Good Girl. It was the first time I ever completed a novel. That's a huge achievement! I knew I had to see what, if anything, could become of it. I'm so glad I did.
Do you have a favorite book you've written? Why?
I don't know that I have a favorite in terms of the book itself, but certainly in terms of the experience. Writing The Good Girl was much different than any other book I ever have, or ever will, write. There were no expectations going into it, no deadlines. I had no idea if I'd finish the book or ever publish it. If I didn't finish, the only person I'd disappoint was me. I wrote the novel when my children were babies and toddlers; the experience is intimately linked to my kids' earliest years. For these reasons, it will always be my favorite.
Stranded on a tropical island, what would be your top three books to have with you?
There are very few books I've read more than once. Three are: The Things They Carried, Tim O'Brien; A Farewell to Arms, Ernest Hemingway; A Tale of Two Cities, Charles Dickens
Writing When the Lights Go Out
Let's talk about When the Lights Go Out. Where did the idea came from and what inspired you to write it?
I can't talk too much about the inspiration for the novel, because the inspiration comes in the big twist itself. That was my original spark of an idea – which is a first for me! I'm usually halfway into my books before I figure out how the story will end.
It's the story of a young woman who, in the wake of her mother's death, comes to believe she may not be the person she thinks she is. Her quest for self-discovery, however, is overshadowed by a debilitating insomnia that makes it impossible to think clearly. I'm eager to hear what readers think of it!
What actresses would you cast to play Kirsty?
Saoirse Ronan.
What do you think readers will love about When the Lights Go Out?
I'm hoping readers connect deeply with the two protagonists, Jessie and Eden. There is a great deal of emotion and hopefully depth in their stories, and I think they will resonate with many readers.
Was the ending planned from the beginning or did it evolve as you wrote it?
It was planned! A few details surprised me, but for the most part, I knew from the get-go how this story would end.
What is the main thing (theme/subject matter, etc) you want readers to take away from this book?
There is an epigraph in the book, a quote from Paradise Lost: "The mind is its own place, and in itself can make a heaven of hell, a hell of heaven." Without giving anything away, I think this sums things up quite well.
What is the publication date and where can readers buy When the Lights Go Out?
September 4, 2018. Readers will be able to find the book most anywhere, but there are links on my website at www.MaryKubica.com.
What's next for Mary?
Do you have a new book you're working on? Can you tell me a little about it, a blurb, potential release date, etc?
I'm in the early stages of the next one, so too soon to speak about, but look for it in 2019!
Get in touch
Mary loves connecting with readers. You can get in touch with her at:
---
Win free books from your
favorite authors
Sign up for my free book club newsletter for chances to win books and read book reviews and exclusive author interviews from authors like Heather Gudenkauf, David Bell, Jane Shemilt, and more.