Missing Pieces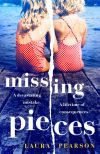 The Sadler family have been rocked by an unimaginable tragedy. Alienated by their own guilt and struggling to cope, they slowly unravel. They grow up, grow apart, never talking about their terrible secret. That is until 25-years later when Bea, the youngest daughter, finds out she's pregnant.
Before Bea brings another Sadler into the world, she needs to know what happened twenty-five years ago. What did they keep from her? What happened that couldn't be fixed?
But how can you repair something broken if pieces are missing?
Read an excerpt from Missing Pieces
My review
This is one of those books that just stays with you, a 5* read I can honestly recommend to everybody. Elegant, honest and breathtakingly beautiful, Laura Pearson's debut novel is an impressive and raw portrayal of how one tragedy affects an entire family, exploring the fragility of childhood and how trauma inherently changes our future…
---
About Laura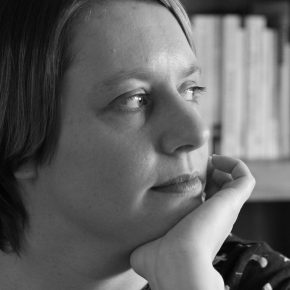 Laura Pearson has an MA in Creative Writing from the University of Chichester. She is also the blogger behind BreastCancerandBaby.com, a blog she set up after she was diagnosed with breast cancer while she was pregnant. Missing Pieces is her debut novel.
Welcome to Author's Corner, Laura!
Can you tell me a little about the quirky, philosophical you that your readers might not know.
I have some funny reading obsessions. If I see 'coming of age' in the blurb for a book, I'll almost certainly buy it. I'm also really fascinated by addiction – I've read loads of memoirs about drug addiction and recovery. Oh, and I'm very interested in twins. I imagine all of these things will make their way into my writing at some point.
This is your debut novel – How has being published changed things for you? Do you still write the same, or is there more/less pressure now?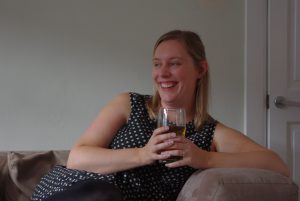 I write more, and faster. I suppose there's pressure but I'm the kind of person who needs a deadline. When you're unpublished, it can feel a bit like you're writing into a void – there's no telling whether you'll ever get published or whether the book you're slaving over will ever be read. So it's really hard to prioritise it. Now that I know my books are going to be in the world, I feel like I've been given permission to take writing more seriously.
How many books did you have to write before getting this one published?
This was my second full novel, but Agora Books are going to publish my first and my third, too.
How much does real life make it into your writing? Has anything in Missing Pieces been based on your life?
My next novel has some basis in my real life, but this one doesn't. I wrote it before I had my children, before I'd been pregnant. I guess elements of people I meet make it into characters, but not whole people. I try to pay attention to the way people talk and interact, and I use that information to write, but I don't really use specific things I've seen or heard.
You also run a blog – breastcancerandbaby.com – Can you tell me a little about it and why you started it?
I was diagnosed with breast cancer during my pregnancy with my second child. It was really scary and about a month after I was diagnosed, I set up the blog. Partly because writing is how I process things and partly because I wanted to reach out to others in the same situation.
Stranded on a tropical island, what would be your top three books to have with you?
I find this really difficult. But I'm going to go with my gut. To Kill a Mockingbird by Harper Lee, Fugitive Pieces by Anne Michaels and Extremely Loud and Incredibly Close by Jonathan Safran Foer.
Writing Missing Pieces
Can you tell us a little about how you came up with the idea for Missing Pieces and what inspired you to write it?
Missing Pieces is about a family in crisis. In the first part, the Sadlers have recently lost three-year-old daughter Phoebe in an accident, and the remaining family members are all blaming themselves for her death and struggling to go on. The second part takes place twenty-five years later, when the imminent birth of a new family member makes them all face up to what happened and what it's meant for all of their lives.
This novel has been kicking around in one form or another for many years. When I was doing my MA in Creative Writing, back in 2004, I started writing a novel about a young woman who is writing a book and whose central character starts appearing in her life. One strand of the novel was about the woman's sister dying in childhood, and that was the germ for this novel (the rest of it fell by the wayside).
I was completely blown away by Missing Pieces, particularly as it's your debut novel. I think a lot of the appeal is how realistic your characters are. Where do you find inspiration and how do you create such compelling characters?
Gosh, thank you! It's hard to say, really (which isn't very helpful). These characters evolved over a lot of years, so maybe that's why they seem very real. I'm hoping I can repeat the trick over a shorter timeframe next time. I think a lot of it is paying attention, like I said above. Noticing how people interact, how they look at one another and what they say and don't say. I'm a great watcher of people.
What do you think readers will love about Missing Pieces?
I hope they'll love the characters, who are all flawed and a bit broken, but essentially good people. I'm also expecting people to like the mystery element and perhaps the way the story of Phoebe comes out in letters. To be honest, I'll be so happy if people love it that I won't really mind why!
What's next for Laura?
Do you have a new book you're working on? Can you tell me a little about it, a blurb, potential release date, etc?
I do! It's in edits at the moment. It's called I Wanted You To Know and it should be out early next year. It's about a mother and daughter who only get to spend a year together but still manage to have a huge impact on one another's lives. It's another sad one, I'm afraid – but there's hope there, too!
Get in touch
Laura loves connecting with readers. You can get in touch with her at:
Official Site · Twitter · Instagram · Facebook
Thank you so much to Agora Books for letting me read Missing Pieces in exchange for my honest review. Visit all the stops on the book tour listed on the image above.
---
Win free books from your
favorite authors
Sign up for my free book club newsletter for chances to win books and read book reviews and exclusive author interviews from authors like Heather Gudenkauf, David Bell, Jane Shemilt, and more.