Hannah Mary McKinnon was born in the UK, grew up in Switzerland and moved to Canada in 2010. After a successful career in recruitment, she quit the corporate world in favor of writing. While her debut, Time After Time, was a rom-com, she transitioned to the dark side thereafter. Her suspense novels include The Neighbors, Her Secret Son and Sister Dear. Hannah Mary lives in Oakville, Ontario, with her husband and three sons.
---
Sister Dear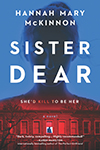 Amazon US  |  Amazon UK  |  Barnes & Noble | Indiebound | Bookshop.org
My review
What begins as a slow-burn exploration of love, loss and grief shifts about midway through into a dark and twisted tale of secrets and revenge.
---
Author's Corner – Interview with Hannah Mary McKinnon
Can you tell me something about you that your readers might not know? For example, writing quirks, funny processes, passions, what you would do if you weren't a writer? Just a brief insight into who you are as a person outside of writing.
I'm sure if you ask my husband and sons, they'll tell you I have tons of quirks, but I think my main one is how I lose focus if I have an untidy desk. There's something about clutter that fogs up my brain. I've been like that for years! I also make a lot of to-do lists. People think my memory is brilliant. It's not, I'm just paranoid I'll forget stuff, so I write it down. I've probably got a list about lists somewhere.
In terms of my career, I worked in IT recruitment before moving to Canada in 2010 and was the CEO for a European firm. When we arrived here, I started up my own HR company, but it crashed and burned within its first year of inception. Had it been a success, I guess I'd be doing that, and I'd never have decided to write books. While the failure hurt like heck at the time, the business not working out led me to discovering my passion. Now I can't imagine doing anything else.
When not writing I'm spending time with friend and family. I've been married for 21 years to Rob, my Canadian rock, and we have three teenage sons. I also enjoy mud runs. The more mud and the more obstacles, the better. I'm terrible at the running part though!
Writing thrillers and mysteries is pretty intense. What do you like to do after a day of writing intense scenes?
I love unwinding by watching movies and sitcoms with my family. The Goldbergs is one of our favorites. As an 80s kid, it really makes me laugh. I read a lot, too, and love being whisked away into the worlds other authors create—thriller, or otherwise.
What is the biggest struggle you overcame to become an author?
Self-doubt and not knowing if my efforts would ever come to something were the hardest things to push through. I'm glad I persevered. With four books published and another written, I understand getting to the point where I hate my manuscript and think the entire thing is a pile of rubbish is simply a normal part of my process, and which I have to push through.
After writing five books I trust myself enough to know I can come back and fix what's not working. I also have a brilliant agent and editor, it must be said, and I trust them implicitly.
What was your favorite childhood book?
Hands down the Mr. Men series by Roger Hargreaves. Actually, I bought all the books when I was eighteen, adding to the collection as new ones published over the years, and read them to my sons when they were little. The books are short, fun and I love them. One of my boys has them in his room now…with the understanding they're on loan only.
The person who helped me fall in love with reading was…
My parents and my older sister, Joely, who all read to me when I was small. Storytime was my favorite both at home and school.
If you could recommend any other book(s) that you've read and loved recently, what would it be?
Gosh, I've devoured many incredible novels already this year. Little Secrets by Jennifer Hillier, Recipe for a Perfect Wife by Karma Brown, In Her Bones by Kate Moretti, Darling Rose Gold by Stephanie Wrobel, Wild At Heart by K.A. Tucker, The Unbreakables by Lisa Barr, This Is How I Lied by Heather Gudenkauf, The Last Wife by Karen Hamilton and The First to Lie by Hank Phillippi Ryan spring to mind. I've loved them all. I finished Don't Look for Me by Wendy Walker a couple of days ago and it was astounding. I got completely sucked into the world she created.
If you could invite five people (dead or alive) to a dinner party, who would they be and why?
Oooh…let's make it an author dinner with a twist. Lisa Jewell and David Nicholls because I've been a huge fan of theirs since…forever. J.K. Rowling because I need to figure out how her genius brain works. Roger Hargreaves because of my love for the Mr. Men series, and Jamie Oliver because his cookbooks are brilliant. The twist is he gets to cook. I wouldn't want to embarrass myself by inviting a chef and serving something subpar!
Writing Sister Dear
Let's talk about your new book, Sister Dear. Can you tell my readers a little about it?
Sister Dear follows the story of grief-stricken Eleanor's growing obsession and jealousy of her seemingly perfect half-sister.
At the beginning of the story, everything is slipping through Eleanor's fingers. In a gut-wrenching discovery, she learns that she isn't her dying father's daughter: she was the product of an affair. With her personal life spiraling, she seeks her biological father out, and discovers something else—an infuriatingly enviable half-sister.
Perfectly perfect Victoria has everything Eleanor could ever dream of. Loving childhood, luxury home, devoted husband. All of it stolen from Eleanor, who deserves it just as much.
Consumed by an overwhelming obsession, she slowly begins to infiltrate her sister's seemingly perfect life…but will things go to plan?
Where did you come up with the idea for Sister Dear?
I heard a radio segment about a woman who'd found a wedding ring at a playground, and she was trying to locate the owner through social media. It got me thinking—what if the woman found out the ring's owner had a dream life, and felt jealous? The more I thought about it, the more twisted things became. I realized the individuals had to be related somehow, and if I made them half-sisters it would add to the drama and intrigue. It seems some of the most despicable acts are carried out within families. That was something I wanted to explore.
Describe Sister Dear in three words.
Dark, insightful and unexpected.
What actresses would you cast to play Eleanor and Victoria?
What a great question! Dakota Fanning as Eleanor, and Emma Stone as Victoria would be wonderful.
What do you think readers will love about Sister Dear?
I tried very hard to make Eleanor relatable, even though she doesn't necessarily make the best choices. She's human, flawed, and down to earth. She's struggling to make her business work, has issues with emotional eating, and a complex relationship with her family. I hope readers will care for her. Failing that, there's always Lewis, her hot neighbor!
I love how dark Sister Dear turns, and completely unexpectedly! Was the ending planned from the beginning or did it evolve as you wrote it?
Thank you, that means so much to me! The ending was almost exactly how I'd plotted it. There's one detail that's different, but I'd spoil the story if I revealed it… This is the first time my plot and final manuscript matched up. Usually the endings change as I write, but this one didn't because I knew right from the beginning, even before I'd finished the plot, where I wanted Eleanor to be on the final page.
Eleanor is such an empathetic character. She starts off so sad but quickly unravels into a jealous mess, and yet she stays likeable throughout. She really just leapt off the page! How do you create characters who are so life-like?
What a wonderful compliment. Thank you so much, Christina. I do work hard and spend a lot of time making my characters into real people. Part of that goes back to them being flawed. Nobody is 100% good or bad, we're all nuanced and layered, so I make sure these fictional people are, too.
I also "interviewed" Eleanor before I wrote the book to get deep into her psyche and understand how her childhood had impacted her, how she became the way she is. Most of that backstory doesn't feature anywhere in the novel, but having that understanding made her become very real to me.
What's next for Hannah Mary?
Are you working on a new book? Can you tell my readers a little about it, a blurb, potential release date, etc? Where did you get the idea?
My fifth book, as yet untitled, is with my editor and should publish in 2021. It's another psychological thriller about a man who wakes up on a beach, not knowing who he is, or how he got there. When he makes it back to his hometown in Maine, he discovers he'd abandoned everyone and everything two years prior. Not only do some of the locals suspect him of murder, but he's also faced with the daunting challenge of figuring out the truth about what he did, and to whom. I'm very excited to introduce you to another cast of messed up characters.
The idea for this story came to me when I saw a photograph of a deserted beach. I wondered what might happen if someone woke up there and had no idea how or why. What was their story? What happened next? I was intrigued, and knew I had to write it.
While my editor goes through that manuscript I'm focusing on novel 6, which I've plotted, and is slated for a 2022 release. Another dark story, of course!
Get In Touch
Hannah Mary loves connecting with readers. You can get in touch with her at:
---
Want to Share this post? Here's your ready-made tweet: