Book Giveaway Winner Announced Here
Hannah Mary McKinnon was born in the UK, grew up in Switzerland and moved to Canada in 2010. After a successful career in recruitment, she quit the corporate world in favor of writing. While her debut, Time After Time, was a rom-com, she transitioned to the dark side thereafter. Her suspense novels include The Neighbors, instant bestsellers Her Secret Son and Sister Dear, and her forthcoming You Will Remember Me. Hannah Mary lives in Oakville, Ontario, with her husband and three sons.
---
You Will Remember Me
He wakes up on a deserted beach in Maryland with a gash on his head and wearing only swim trunks. He can't remember who he is. Everything–his identity, his life, his loved ones–has been replaced by a dizzying fog of uncertainty. But returning to his Maine hometown in search of the truth uncovers more questions than answers.
Lily Reid thinks she knows her boyfriend, Jack. Until he goes missing one night, and her frantic search reveals that he's been lying to her since they met, desperate to escape a dark past he'd purposely left behind.
Maya Scott has been trying to find her estranged stepbrother, Asher, since he disappeared without a trace. Having him back, missing memory and all, feels like a miracle. But with a mutual history full of devastating secrets, how far will Maya go to ensure she alone takes them to the grave?
Amazon US  |  Amazon UK  |  Barnes & Noble | Indiebound 
My review
Magnificently malevolent and darkly diabolical, what begins as a case of amnesia quickly turns into a riveting, sinister ride. Every twist, every layer skilfully unravels to an explosive conclusion that will have you gasping out loud. You Will Remember Me is an absolute knockout!
---
Author's Corner – Interview with Hannah Mary McKinnon
Thanks so much for being on Author's Corner! Can you tell us one funny, quirky thing about you, something most people might not know? An interesting hobby or funny habit, something so readers can get to know the person behind the author.
I have parasomnia, which means I do very strange things in my sleep, such as shouting and kicking and fighting off aliens, removing inexistent plates of salad from our bed or playing golf (which I've never done in my life, not even when awake). I have absolutely no recollection about any of it in the morning. My husband swears I sat up one night giggling and wide-eyed, before solemnly announcing my feet were made of liquorice (and I dislike liquorice…).
What was the very first thing—ever—that you remember writing?
A ghost story when I was about eight. It ended with, "She looked up into the sky and saw a face." That's all I remember. Maybe I have it in a box of old school stuff somewhere. That would be fun.
What are some of the jobs you had before becoming a writer, and how did they help you with what you do now?
I worked as personal assistant, became the purchasing manager for a high-tech company that made motors for space applications, then took a role as Back Office Manager for an IT recruitment company. I moved up the corporate ladder to Chief Operating Officer and Chief Executive Officer. My general business experience, adaptability, and curiosity have all been extremely helpful, as have my organizational and networking skills. I was trained to always meet or beat deadlines, which definitely comes in handy as an author.

What are some of the book(s) that you've read and loved recently?
Bath Haus by PJ Vernon, What's Done in Darkness by Laura McHugh, The Perfect Family by Robyn Harding, Do No Harm by Christina McDonald (of course!)
If you could be a character in a book for a day, who would you be?

Wonder Woman!
Just for fun, choose one answer for each:
Laundry or Dishes? Laundry
Movies or TV? Movies
iOS or Android? iOS
Coffee or Tea? Tea
Ninjas or Pirates? Pirates
Beach, City or Forest? Forest
If you could invite five people (dead or alive) to a dinner party, who would they be and why?
Last year I'd have named famous actors and authors. Now? My immediate family because I haven't seen them in almost two years.
I know you're an avid plotter, but how do you go about coming up with your initial story ideas?
So far, I can pinpoint exactly how each book started. Time After Time is a story about a woman who's unhappy with her life, which was me when we moved to Canada and my HR company crashed and burned, although the rest of the novel is fictional. The idea for The Neighbors came to me when two houses on our courtyard went up for sale, and I wondered who might move in. Her Secret Son stemmed from a news segment I saw while I was at the gym (probably wishing I were eating cake instead). Sister Dear was a radio segment about a woman who'd found a wedding ring at a playground and was trying to locate the owner through social media. I'll tell you more about You Will Remember Me below.
I know you've partnered with Hank Phillippi Ryan to do First Chapter Fun. Can you tell us a little about it and where readers can find you?
With pleasure! Back in March 2020, when Covid first hit Canada, a group of us were discussing how we could help promote one another and give our books a boost. At 7.15 p.m. I half-jokingly offered to read the first chapter of their novels on Facebook and Instagram and started the very next day at 11.30 a.m. It was very much a "Don't think, just do" situation. Within a few days I had over 40 daily readings lined up and First Chapter Fun grew from there. I read for 53 days in a row (didn't think the "must do hair and make-up" thing through very well), introducing viewers to a new novel and author each day.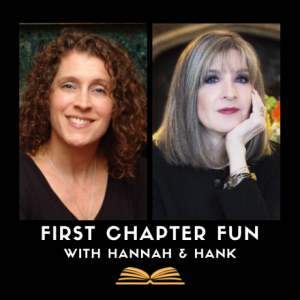 In May 2020, I teamed up with my partner-in-fictional-crime, powerhouse author Hank Phillippi Ryan.
We read every Tuesday and Thursday (the days with a "T) on Facebook and Instagram simultaneously at 12.30 pm ET, and already have readings scheduled until the end of 2021. All the previously aired episodes are saved and can be viewed at leisure. It's a wonderful community where we share the love of books and introduce new and/or new-to-you authors twice a week. Our goal is to keep your "to be read" pile completely out-of-control and, or so we've been told, we're succeeding.
Find First Chapter Fun on Facebook
Find First Chapter Fun on Instagram
Writing You Will Remember Me
Let's talk about your book You Will Remember Me. Can you tell my readers a little about it?
It's another psychological suspense story, a twisty amnesia thriller where the fates of three people intertwine: a man who wakes up on a beach but doesn't know who or where he is. Lily, who's searching for her boyfriend, Jack, who went missing after going for a swim, and Maya, who's also looking for someone–her stepbrother, Ash, who abandoned her and his entire life two years prior. But is the man from the beach Jack, Ash, neither…or both?
Where did you come up with the idea?
A few years ago, a man from Toronto vanished from a ski hill in Lake Placid while there on vacation and showed up six days later in Sacramento. He had amnesia and couldn't remember much, including the cross-country trip he'd made as he'd hitchhiked across the US. Everything worked out for the man in the end and he found his way home, but it made me wonder—what could have gone wrong? That was the genesis for You Will Remember Me.

 Describe You Will Remember Me in three words.
Dark, twisted, surprising.
Let's talk about the characters in You Will Remember Me. I love how your initially likeable characters morph into something far more devious. How did you go about creating the characters of Lily, Jack and Maya?
They were all interesting to write for many different reasons, predominantly because they're flawed. Maya was probably the most complex, certainly one of the darkest point-of-view characters I've ever written. Although Lily is a sunshine girl, she has her secrets, too, which were fun to explore. As for "the man from the beach," unearthing him was a longer process, and I kept reminding myself that because I knew his history, it didn't mean he could because of the amnesia. In that sense he's the most complicated character I've ever written, and presented a real challenge.
That ending! Wow, I did not see that coming at all! Without giving it away, did you know the ending for You Will Remember Me before you started writing?
I'm so glad you didn't see it coming. As you mentioned, I'm a heavy plotter but for this book I had three possible endings in mind. When I pitched the book to my editor, I asked, "How dark can I go?" She replied, "As dark as you want." And I so did.
What do you think readers will love about You Will Remember Me?
Hopefully they'll enjoy the complexity of the characters and the dark undercurrent that starts almost immediately, that sensation that something's wrong but you can't quite put your finger on it. I'd be very pleased if they liked my characters, too.
Ultimately though, I hope I manage to surprise my readers, and they keep thinking about the book long after they've finished the final page. My main goal is to entertain, to provide people a form of escape and to leave people satisfied thinking, "I enjoyed that. It was time well spent!"
What's Next For You?
Are you working on a new book? Can you tell my readers a little about it, a blurb, potential release date, etc?
My sixth book is done and back in my wonderful editor's hands. It's written from the anti-hero's point-of-view, which I've never done before, and is the story of Lucas, who hired a hitman to kill his wife. A month later, Lucas receives a partial photograph of his wife in the mail. Who sent it? What do they know? And, more importantly, what do they want? I can't wait to introduce you to my characters! It's slated to publish in spring 2022.
In the meantime, I'm plotting and outlining Book 7, but it's too early to give anything away.
Get In Touch
Hannah loves connecting with readers. You can get in touch with her at:
---
Want to Share this post? Here's your ready-made tweet:
---
More from Author's Corner