Alice Feeney is a writer and journalist. She spent 15 years at the BBC, where she worked as a Reporter, News Editor, Arts and Entertainment Producer and One O'clock News Producer. Her debut, Sometimes I Lie, was a New York Times and international bestseller. It has been translated into over twenty languages, and is being made into a TV series by Ellen DeGeneres and Warner Bros. starring Sarah Michelle Gellar. Her second novel, I Know Who You Are, is available April 2019.
---
I Know Who You Are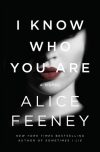 A twisty (and twisted!) thriller that follows Aimee Sinclaire, the actress everyone thinks they know but can't remember where from. Except one person.
Someone knows Aimee very well. They know who she is and they know what she did.
When Aimee comes home and discovers her husband is missing, the police think she's hiding something, and they're right. Aimee has a secret she's never shared, and yet, she suspects that someone knows. As she struggles to keep her career and sanity intact, her past comes back to haunt her in ways more dangerous than she could have ever imagined.
Buy on Amazon US  |  Buy on Amazon UK  |  Buy on Indiebound
My review
A tightly woven, intricately plotted thriller, I Know Who You Are is expertly crafted and tightly plotted. I never once guessed the end – and that is something of a feat for me! Every time I thought I knew what would happen, Feeney would upend everything so I was right back to square one.
---
Author's Corner – interview with Alice Feeney

Can you tell me something quirky about you that your readers might not know?
There are a few things that not a lot of people know about me. I was a journalist for fifteen years, but I also worked as a TV extra once upon a time. That experience, plus interviewing a few actresses for the BBC, definitely went into this novel. I write in my shed, and one of my biggest secrets is that I'm afraid of the dark.
Did you always want to be an author? How has being an author changed things for you? Do you still write the same, or is there more/less pressure now?
Being allowed to write full time is such a dream come true and I feel incredibly lucky, it really is a privilege. I write more than ever before now that I don't have to fit it around work, which is wonderful. I tend to start pretty early (I've been known to go to the writing shed at 0300 in the morning) and I take a break when my dog tells me to (he rests his head on my keyboard so I can't type). The only bad thing about having the best job in the world is the constant fear of losing it!
You worked as a reporter for the BBC before becoming an author. How did that job help you in your writing career now?
Journalists are people who like telling stories, so it never surprises me when an author has that kind of background. I suppose it helps with storytelling, but also tends to mean you are a people person and good at public speaking. I'm actually quite shy in real life, but it's always lovely to meet readers who enjoyed the books.
If you could recommend one book you've read recently, what would it be?
I really enjoyed The Taking of Annie Thorne by C.J. Tudor.
Writing I Know Who You Are
Let's talk about I Know Who You Are. Where did the idea came from and what inspired you to write it?
I Know Who You Are came to life when an old and new idea collided in my head. I've always been fascinated by people who lie for a living, and I'm very fond of unreliable narrators, so I fell in love with the idea of Aimee Sinclair and had to write her story.
Describe I Know Who You Are in three words.
Dark. Scary. Twisted.
What actress would you cast to play Aimee?
I think Jodie Comer would be brilliant as Aimee.
Was the ending planned from the beginning or did it evolve as you wrote it?
Yes, I'm a planner. I think about a story for a long time before I commit to writing it, and I plot everything out on a giant board before I write a word. There is no right or wrong way to write, but for me, starting a novel without a plan would be like going on a big walk without a map – I'd spend the entire time worrying about getting lost instead of enjoying myself. I always know the end before I begin.
What do you think readers will love about I Know Who You Are?
It's like inviting someone you don't know to get on a rollercoaster with you, your characters and your story – if a reader is kind enough to accept the invite, then I just hope they enjoy the ride!
What was the most surprising thing you learned while writing I Know Who You Are?
That I can write faster than I thought.
What's next for Alice?
Are you working on a new book? Can you tell my readers a little about it, a blurb, potential release date, etc? Where did you get the idea?
My third thriller will be out in Spring 2020. I'm not allowed to share too much about it yet, but I think it's my most twisted tale to date!
Get in touch
Alice loves connecting with readers. You can get in touch with her at:
---
Win free books from your
favorite authors
Sign up for my free book club newsletter for chances to win books and read book reviews and exclusive author interviews from authors like Heather Gudenkauf, David Bell, Jane Shemilt, and more.