Heather Gudenkauf is an Edgar Award nominated New York Times and USA Today bestselling author of The Weight of Silence, These Things Hidden and Not A Sound. To top that off, she's just a really, really nice person. She works with at-risk schools as a reading coordinator, has three teenage children, and still manages to be a bestselling author.
About Heather
Tell me a little about the quirky, philosophical you that your readers might not know.
I am an unapologetic homebody! I love being at home with my sidekick, Lolo, a very sweet, very spoiled German shorthaired pointer. If I have the choice between hitting the town or curling up on the couch with a good movie or an episode of Dateline (a true crime television show), I'd choose the couch every time. That's not to say I don't like getting out. My second favorite pastime is hiking with my husband and Lolo.
I'm so fortunate I get to do two things I love – writing and working in education – so I'm pretty content with my career path, but a part of me would love to own a bookstore. What could be better than being surrounded by books? All. Day. Long!
Your novels are obviously very personal – One Breath Away is about a school shooting, which happened at the University of Iowa when you were there. And in Not A Sound the protagonist is dealing with the loss of her hearing, and you also have hearing loss. Is it difficult to pour so much of yourself into your books? Or do you find it natural?
I think about a story line for a long time before I start writing so when I do infuse personal aspects of my life into a novel I have a bit of distance from the situation. I also attempt to view whatever topic I'm writing about from my characters' point of view – making the perspectives quite different from my own. Though I write about some very dark subject matter, people are somewhat surprised that I've actually had a perfectly pleasant childhood and a happy family life.
I love the story about how you used to retreat to a toy box to read. As a child I used to read in the closet. Do you have a space as an adult where you read or find peace and solitude?
Your closet sanctuary sounds wonderful and much roomier than my toy box! As an adult I've become much more adaptable as to where I can read but one of the parts of my day that I most look forward to is crawling into bed with my current read and escaping for even a few minutes.
I adore your books and I love the way you've developed all of your characters. Where do you find inspiration and how do you draw such compelling characters?
Thank you! I think about my characters for a long time before I start writing about them. Typically, I keep a notebook about my characters where I document everything I can about them: their physical characteristics, their likes and dislikes, their histories, hopes and dreams. Once I have a complete picture of the characters, I start writing.
What is your favorite book you've written? Why?
Oh, that's always a hard question. It is very difficult to choose because as a writer you spend so much time and energy on each project – it's like picking your favorite child – impossible! That said, I do have a special place in my heart for my first novel, The Weight of Silence. I had no idea what would happen with the book – if it would even be published. I just fell in love with the characters and the story. My newest novel, Not A Sound, is very dear to me as well.
Stranded on a tropical island, what would be your top three books to have with you?
Again, a hard question! I would choose My Antonia by Willa Cather. This is my absolute favorite book and I reread it every single year. I'd also choose A Tree Grows in Brooklyn by Betty Smith. This turn of the century story about Francie Nolan and her journey through a tumultuous childhood and her escape into books is timeless. The final book I would choose would have to be a Harry Potter book – it really doesn't matter which one – I loved them all. I have such fond memories of reading the series with my children that it's a must.
Writing Not A Sound
Where did the idea for Not A Sound come from and how were you inspired to write it?
The idea for Not A Sound evolved over several years. I wanted to write a story highlighting a heroine who happened to be deaf. I was born with a significant hearing loss and though I manage quite well in most situations, growing up there were times when communicating with and understanding others was quite challenging – especially in noisy, less structured settings that left me feeling out of sorts and isolated. As a result, I turned to books for comfort.
Over the years, I've found that novels featuring differently-abled protagonists are few and far between and once I was bit by the writing bug I knew one day that I wanted to try my hand at writing one for myself.
What's unique about this story is Amelia, who has hearing loss. Did this help you connect with her? What made you decide to write her deaf?
Amelia Winn could be the most complex and endearing character that I've had the honour of creating to date. Amelia is smart, feisty and stubborn. Writing for a profoundly deaf protagonist was incredibly challenging and it was important to me to first and foremost portray a deaf character and her experiences with respect and as accurately as possible.
In order to do this, I had to do my research. I consulted with experts: educators of the deaf and hard of hearing, a speech pathologist and an audiologist. I also sought feedback from profoundly deaf readers who provided me with invaluable insights. I really connected with Amelia not only because of our hearing loss, but because we are both adore our dogs and have a love of the outdoors.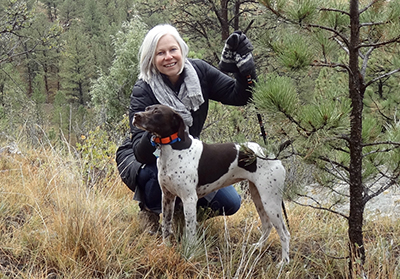 As I wrote, I spent many hours hiking through the woods and along rivers with my dog Lolo. We would pick our way along craggy bluffs and muddy creek banks and I would try to see the world through Amelia's eyes. I would try to imagine not being able to hear the scuttle of the wind blowing through tree branches, the buzz of insects, the gurgle of a flowing stream, the footsteps of someone coming up behind me. I found it quite eerie and was always grateful to have Lolo by my side.
What actor/actress would you cast to play Amelia in Not A Sound?
My first thought is Marlee Matlin, she is an amazing actress and would be perfect in this role.
What do you think readers will love about Not A Sound?
I hope that readers will get caught up in the mystery of Not A Sound and while Amelia's hearing loss plays a large role in the novel, I think that this is just one aspect of what makes Amelia a unique, compelling, relatable character. What I really hope that readers love about Amelia is her bravery, mental toughness, unyielding search for the truth, and of course her big heart. Then there's Stitch. Stitch, Amelia's service dog really steals the show, especially in the final scenes.
About Not A Sound

Amelia Winn has a lot of regrets. She regrets the first drink after she lost her hearing. She regrets destroying her family as she spiralled into depression. Mostly, she regrets not calling Gwen Locke back. Because now Gwen is dead. And as Amelia begins to unearth the terrible secrets that led to Gwen's naked body being dumped in the freezing water, she realises that she might be next.
But how do you catch a killer when you can't hear him coming?
Read an excerpt from Not A Sound
IndieBound | Amazon | Barnes & Noble  | BAM | iBook | Target
What's next for Heather?
Do you have a new book you're working on? Can you tell me a little about it, a blurb, potential release date, etc?
I am so excited about my upcoming novel, tentatively titled There Will Be Scars. In short, it's about three pre-teens who go into a train yard and only two come out unscathed. It's told from multiple points of view as well as through journal entries, social media and police reports. It's due to hit the shelves in the winter of 2019.
Get in touch
Heather loves connecting with readers. You can get in touch with her at:
---
Win free books from your favorite authors
Sign up for my free book club newsletter for chances to win books and read book reviews and exclusive author interviews from authors like Heather Gudenkauf, David Bell, Jane Shemilt, and more.