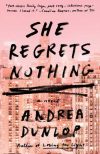 Andrea Dunlop is the author of She Regrets Nothing, Losing the Light and the novella Broken Bay, as well as a publishing and marketing consultant with more than a decade of experience in book publishing. She lives with her husband in Seattle, WA. She Regrets Nothing has been called a must-read by Town & Country, InStyle, Elite Daily and more.
 About Andrea
Tell me a little about the quirky, philosophical you that your readers might not know.
The only thing I ever wanted to do besides be a writer was maybe be a professional tennis player. I made it as far as being a college player for my small university in California but pro athlete wasn't in the cards. I was also really into salsa dancing in my late twenties and early thirties. I tend to go pretty all in with hobbies and I love having something to work on and improve at.
As well as being an author, you're also are a publishing and book marketing consultant. How do you balance those two sides of your work? Do you feel a pull for one more than the other or do they complement each other? Do you have a writing process?
Writing fiction has been a lifelong passion and it's really the only thing I've ever wanted to do with my life. I like working with authors because I'm so passionate about books and it gives me a chance to always be learning more about the business and the marketing side, which is important for me as an author as well. Given that I've been on both side of the table, it makes me better able to empathize with all the challenges of being an author and working with them. It's so helpful as an author to understand what's going on behind the scenes.
I typically write in the mornings because that's when I do my best, most focused work, and it also ensures that if something goes off the rails later in the day, I've at least gotten that done!
What is your favorite book you've written? Why?
My favourite is always the one I'm currently working on, which is probably a good thing because otherwise it would be like constantly pining for an ex-boyfriend. Getting into a new project is what helps me let go of the last one, which is crucial because once a book is out in the world, you don't have any control!
Stranded on a tropical island, what would be your top three books to have with you?
Play it as It Lays by Joan Didion is one I could read over and over again and discover something new about each time; something funny like Bridget Jones' Diary to keep my spirits up, and then maybe some big doorstop of an ambitious book that I haven't read yet so I could be like "Yes! I finally have the time to read A Little Life!"
Writing She Regrets Nothing
Where did the idea for She Regrets Nothing come from and how were you inspired to write it?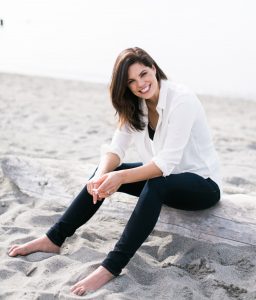 She Regrets Nothing is the story of Laila Lawrence, a young woman who discovers when her mother dies that she has a wealthy family in New York she never knew about. She leaves the Midwest to join them and chaos and scandal ensue. It's Edith Wharton meets Gossip Girl.
I moved to New York after college and worked in publishing there for about six years. This book is my love-hate letter to the city which left a huge and lasting impression on me. So much of American culture is an extreme in New York: class and wealth disparity, gender politics, ambition and greed; a lot of what I observed in my time there made it into the book.
Many of your reviewers mention how authentic your characters are. Where do you find inspiration and how do you find and create such compelling characters?
Most of my characters have a jumping off point from a real life person, but they quickly become their own entity once I'm really into working on a book. I think about my characters all the time, even when I'm not writing. I think about them in the shower or while I'm walking the dog, I obsess over getting to know them.
What actor/actress would you cast to play Laila in She Regrets Nothing?
Madelaine Petsch from Riverdale would be great. She kills it as the resident love-to-hate-her redheaded bombshell.
What do you think readers will love about She Regrets Nothing?
I hope that they'll have fun reading it and getting into the story while also finding I've given them a lot to think about when it comes about to the ways in which the rules are so drastically different for different groups of people in our society.
About She Regrets Nothing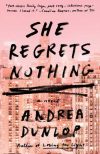 After her mother's death, Laila is unexpectedly introduced to her three glamorous cousins from New York. The cousins are scions of the wealthy family that Laila's father had been estranged from. Deciding to move to New York with her cousins, Laila learns the truth behind the estrangement and decides to claim what's rightfully hers, reawakening a long-dead family scandal.
But will Laila ever truly belong in this new world of glitz and glamor?
Read an excerpt from She Regrets Nothing
What's next for Andrea?
Do you have a new book you're working on? Can you tell me a little about it, a blurb, potential release date, etc?
Right now I'm working on a new book about an Olympic ski racer whose life and career are turned upside down by a shocking family tragedy. It's by far the most ambitious and personal project I've ever taken on and I'm looking forward to sharing it with readers.
Get in touch
Andrea loves connecting with readers. You can get in touch with her at:
---
Win free books from your favorite authors
Sign up for my free book club newsletter for chances to win books and read book reviews and exclusive author interviews from authors like Heather Gudenkauf, David Bell, Jane Shemilt, and more.