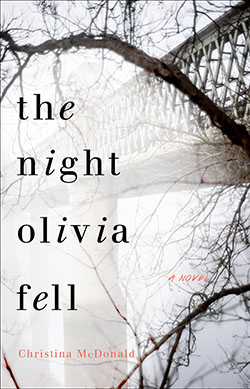 In the small hours of the morning, Abi is startled awake by a phone call and learns that her teenage daughter Olivia has fallen off a bridge. Not only is Olivia brain dead, she's pregnant and must remain on life support to keep her baby alive. And then Abi sees the bruises circling Olivia's wrists.
When the police rule Olivia's fall an accident, Abi decides to find out what really happened. Was Olivia's fall an accident? Or something far more sinister?
A domestic suspense novel set around Puget Sound's coast in Washington State, The Night Olivia Fell asks how well we ever really know our children, weaving together a story of family secrets and devastating lies.
"If you're already putting together your 2019 TBR list of must-read thrillers, you're probably going to want to add The Night Olivia Fell to it ASAP." – Bustle Magazine
Watch out for The Night Olivia Fell  to be published by Simon and Schuster in February 2019!
Publicity for The Night Olivia Fell
Bustle Magazine – cover reveal