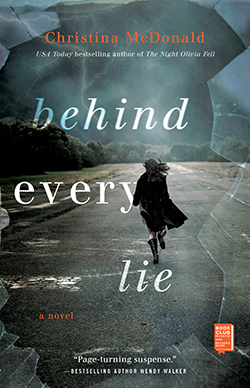 *Barnes & Noble Bestseller
*Audible Bestseller
*An Entertainment Weekly 'Most Anticipated Quarantine Read'
*A Hollywood Reporter 'Book To Read Based on TV Favorites'
*Best Books Of 2020 by Parade Magazine
*Most Anticipated of 2020 by Parade Magazine, Goodreads, SheReads, Working Mother

---
If you can't remember it
Eva Hansen wakes in the hospital after being struck by lightning and discovers her mother, Kat, has been murdered. Eva was found unconscious down the street, but she can't remember what happened. And then she learns the police are suspicious of her.
How do you prove you didn't do it?
Determined to clear her name, Eva heads from Seattle to London—Kat's former home—for answers. But as she unravels her mother's carefully held secrets, Eva soon realizes that someone doesn't want her to know the truth. And with violent memories beginning to emerge, Eva doesn't know who to trust. Least of all herself.
Told in alternating perspectives from Eva's search for answers and Kat's mysterious past, Christina McDonald has crafted another "complex, emotionally intense" (Publishers Weekly) domestic thriller. Behind Every Lie explores the complicated nature of mother-daughter relationships, family trauma, and the danger behind long-held secrets.
Watch the trailer
---
Praise for Behind Every Lie
"A layered, gut-wrenching domestic thriller that explores the complexities of mothers and daughters, and the secrets families keep. Smart and intense, and with more than enough twists to give you whiplash, McDonald's beautiful, emotional storytelling will leave you breathless. I don't think I exhaled until the end." —Jennifer Hillier, author of Jar of Hearts, ITW Award winner for Best Novel
"Brilliantly intertwines page-turning suspense with jaw-dropping family secrets. An emotionally-charged domestic thriller that is sure to please!" —Wendy Walker, national bestselling author of The Night Before
"A deep, suspenseful novel packed with family secrets. Christina McDonald has a true gift for creating characters that are so well-developed, it feels like you know them. An outstanding achievement!" —Samantha Downing, author of the #1 international bestseller My Lovely Wife
"Starts with a bang, then builds the action steadily, a gradual unfolding of secrets and lies that will have you constantly switching alliances. Read it like I did, in one sitting and straight through to The End, because you won't want to put this one down." —Kimberly Belle, internationally bestselling author
"A clever, tense, and absorbing novel—this tale of family secrets had me racing towards the final pages." —Emma Rous, bestselling author of The Au Pair
"A cleverly plotted and emotionally charged page-turner about memory, trusting yourself, grieving, and letting go. Family secrets run deep in this compelling exploration of how far a mother will go to protect her child. Full of twists and turns, this is domestic suspense at its best!" —Karen Katchur, bestselling author of River Bodies
"A lightning strike survivor discovers that memories are fallible, identities are fungible, and she can't trust anyone—including herself. With nuanced and dubiously trustworthy characters, dual timelines revealing decades of secrets, and a tension-packed plot…an engrossing and utterly addictive thriller. I couldn't turn the pages fast enough!" —Kathleen Barber, author of Truth Be Told, soon to be adapted into an Apple TV series by Reese Witherspoon's Hello Sunshine
"Addictive and emotionally resonant, BEHIND EVERY LIE is a twisty, fast-paced thriller with secrets nestled inside secrets. Nothing is as it seems in this story exploring the sorrow and strength of brokenness, and with complex characters and a relentlessly compelling plot, you'll be unable to stop reading it—or forget it once you do. " —Megan Collins, author of The Winter Sister
---
Publicity