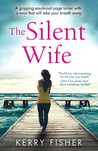 The Silent Wife by Kerry Fisher
My rating: 3 of 5 stars
The Silent Wife is a family saga/drama. It tells the story of two women who are the wives of two Italian brothers, exploring the difficulties of second marriages.
The description makes this book look tense and thrilling, but really it's a character-drawn story about two very different women with very little tension at all. The characters are very well drawn and life-like, although the whole plot and the idea that there was some massive 'secret' and loads of 'lies' definitely detracted a few stars for me.
A decent read about the darker sides of a marriage reminding you that the perfect couple isn't always as perfect as they seem.